The buzz around big data is nothing new. Most marketers and business owners know how to gather, process, and utilize internal company data to improve business outcomes. But when it comes to competitors, data sources can be harder to come by.
Competitive research and analysis are at the heart of any successful company strategy, and external data about competitors is an invaluable resource when seeking a competitive edge. And in the online world, where competitor scouting is about the only way to break through the competition, clickstream data provides the key. 
You may have heard the term "clickstream data" before now. Some digital marketing suites proudly claim they ground their insights on it. We want to emphasize the word some here, as clickstream data is expensive and has to be processed properly to deliver actionable insights. Hence not that many platforms offer this kind of data.
In this brief post, we will define clickstream data, show how brands that have a digital presence benefit from it, and reveal how Semrush .Trends integrates clickstream data in its toolkit to deliver powerful competitive insights.
What Is Clickstream Data?
If a digital marketer had the opportunity to choose one superpower, chances are they'd pick Analytics X-ray vision. Imagine the insights you could gain with access to your competitors' website data. 
With data around the behavior of your competitors' users, their interests, and their engagement with their content, you could optimize your site and adjust your marketing strategy, leading to a broader, more engaged audience, and increased conversions.
Though you likely won't have access to superpowers anytime soon, Clickstream data provides the next best option for gathering these kinds of insights. 
Put simply, a clickstream is the record of an individual's clicks through their journey on the Internet. 
For example, let's say you open your browser and ask Google, "How do I fix a flat tire?" Google offers results, and you choose a Youtube video. Then, while watching the video, perhaps you follow an advertisement to the Firestone Tires website. And finally, let's say you buy a new set of tires and close your browser. 
Along with basic information about visited pages, Clickstream data can also include information like how much time a user spent on a given page, what page features they engaged, and where they went next. 
The availability of all of this information makes clickstream data the next best thing to real traffic data. Aggregated, large sets of clickstream data provide real insights into consumers' online behavior — information any business needs to create a viable and efficient digital strategy.
Clickstream Data Collection and Insight Generation 
Data companies collect clickstream data from millions of internet users who agree to share their data. These users are known in the industry as "panelists". Data companies identify panelists using "panelist hashed IDs", which render the panelist's data totally anonymous, while also allowing for data collection across devices.
While a single user's clickstream data may not be useful, when you aggregate data from millions and millions of users, you can begin to uncover trends and draw conclusions about different metrics. Aggregated, this data helps to explore competitors' website performance showing stats like:
Estimated traffic;
Traffic sources (including exact platforms users come from to the site);
Time on page;
The share of unique and return visitors;
Bounce rate; and more.
It's important to note that clickstream data is distinct from analytics data. While analytics data shows precise metrics associated with an individual domain, clickstream data is associated with individual users and their navigation across numerous domains. 
Why Is Clickstream Data Awesome? 
Traditional market research methods — such as surveys, focus groups, or hands on usability testing — create a number of challenges for online marketers. While these methods can provide useful insights, they're often time-consuming, labor intensive, and expensive. 
Marketers need accessible, timely, and versatile data to pivot with ever changing market conditions. And this is where Clickstream data comes in handy.
Compared to traditional market research methods, clickstream data is: 
Able to offer timely insights — Clickstream data is gathered in real time as users navigate through the web. Because of this, there is none of the wait associated with traditional research for things like recruitment, test delivery, and expert analysis. 
More versatile — While preparing clickstream data and developing algorithms to analyze it is highly complicated, once datasets are prepared they can be used to derive countless insights, limiting the amount of work involved in collecting and analyzing data through more traditional research methods. 
Shows the big picture — While traditional research methods focus on very specific outputs and often only target specific audiences, geographies, and timeframes, clickstream data depicts a wide variety of users and their actions as they navigate naturally across the web. This allows you to capture more comprehensive data, leading to more dynamic, clear, and actionable insights. 
How Semrush .Trends Uses Clickstream Data
Semrush .Trends tools are primarily intended for market research and competitive analysis. It's our job to provide useful insights about your competitors. To accomplish this, we leverage petabytes of clickstream data received by 3rd party providers, along with machine learning algorithms and Big Data technologies.
It's important to note that insights within the .Trends solution aren't solely based on clickstream data. When it comes to competitor analytics capabilities, clickstream is at the center, though Semrush's database of backlinks and organic SERP positions are also run through their proprietary neural network algorithm to generate the highest data accuracy levels possible.
To understand our process, it may be helpful to visualize it. Consider the example below. 
Semrush receives anonymized data from a variety of 3rd party providers. The data is then organized in a way that allows for statistical analysis, a process known as aggregation. 
Then, the aggregated clickstream data is processed along with backlink and keyword data through Semrush's proprietary machine learning algorithms. Semrush has one of the largest and fastest databases of backlinks available on the market, and the largest database of keywords and SERPs. This combination of clickstream data, backlink data, and keyword data generate accurate insights for any domain, industry, or market across the internet. 
And finally, the results are depicted in charts, graphs, and other visualization on our Traffic Analytics and Market Explorer dashboards, creating an organized and understandable user interface for you to engage with the data. 
Now that we've covered the basics of clickstream data and how it's processed, let's take a look at the insights Semrush can generate using clickstream data. 
Get Traffic Estimates
For any website, Semrush's Traffic Analytics tool reveals the approximate number of visitors and unique visitors.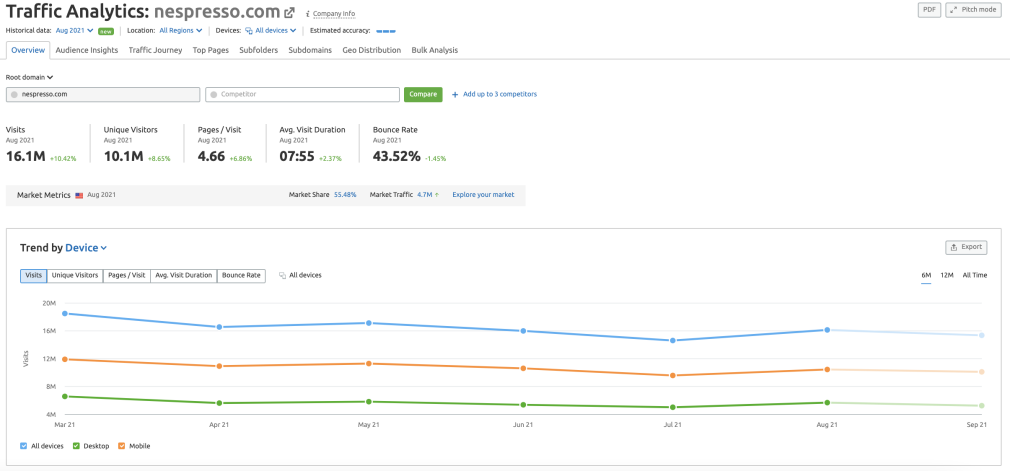 The "visits" metric represents the number of sessions during which a visitor views one or more pages.
"Unique visitors" are the number of distinct visitors to the website. It's only only counted once.
These Semrush .Trends metrics can help you understand the traffic trends of other players in your industry. You can then compare your own numbers from Google Analytics with those of your competitors, and make data-driven marketing decisions and educated predictions about future market trends.
Assess User Behavior & Engagement
With the help of clickstream data, Traffic Analytics also allows you to assess user behavior based on their engagement signals: 
How many pages they view per visit;
The average visit duration; and
Bounce rate.
These insights should help you understand how well your rivals' site content performs and whether it manages or fails to engage your audience. This information can help you gauge the quality of your own content. For example, If you notice that one rival gets significantly better user engagement signals, it may be worth taking a look at their content strategy. 
Understand What Drives the Biggest Audience Traction
Based on traffic data, Traffic Analytics reveals which subdomains, subfolders, and pages attract the largest audience shares of your competitors.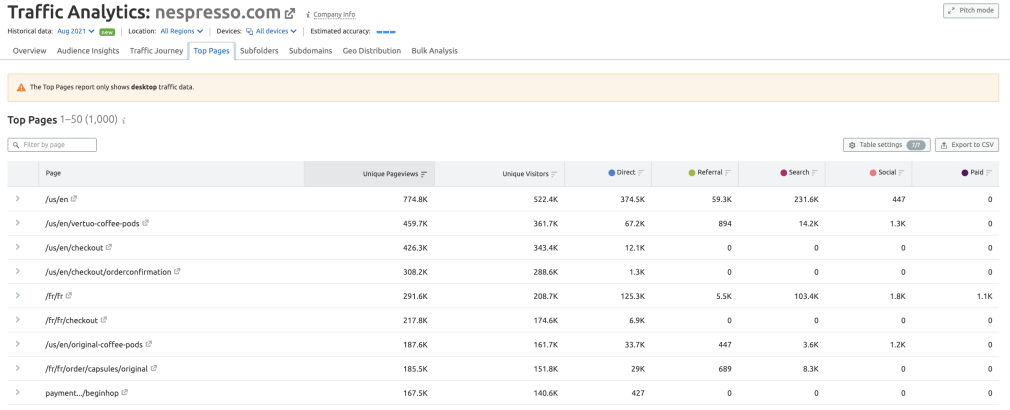 Now, these insights will imply the following:
The most popular subdomains will likely point out to the most popular languages of your competitors' site as subdomains are typically used for running multilingual sites.
The most popular subfolders will highlight which site parts — a blog, webinars section, games, puzzles, recipes, etc. — drive the majority of the site's overall traffic.
The most popular pages will reveal which particular campaigns, content pieces, or other pages serve as the top audience magnets.
Explore Competitors' Promotional Strategies 
With clickstream powering intel within the .Trends solution, you can also take a deep dive into your rivals' promotional strategies.
On a higher level, the Market Explorer tool unwraps the traffic generation strategy within your market, showing the traffic breakdown between direct, search, paid, social, and referral traffic:

Traffic Analytics shows the same breakdown, but for select websites. But the tool also allows you track the entire traffic journey of competitors' users on a more granular level, revealing platforms they typically visit before and after landing on the site.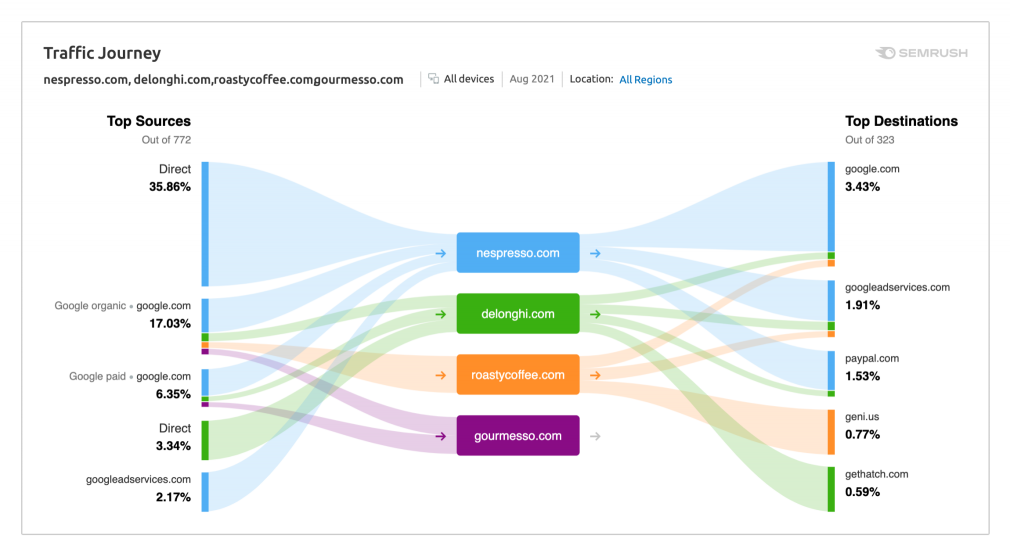 Final Words
When it comes to gaining actionable insights about your industry competitors, nothing beats clickstream data. Unlike traditional user research techniques, clickstream offers timely, easy to comprehend, big picture insights that can have a huge impact on your marketing efforts. 
The Semrush .Trends tools, which are based on clickstream data, provide deep value for your business. By allowing you to understand emerging trends, they not only help you to make better marketing decisions, they give you intel about market movements that lets you stay ahead of the curve and play a role in defining the future of your industry. At the end of the day, you don't want to just follow the trends, you want to be a trendsetter.
In this article, we've just scratched the surface. If you want to get creative with your analysis, you can even estimate your competitor's conversion rates. With clickstream data, possibilities abound! And as it turns out, you don't need analytics X-ray vision after all. 
Research your competition in detail
Try Semrush .Trends
Denial of responsibility!
Search Engine Codex is an automatic aggregator of the all world's media. In each content, the hyperlink to the primary source is specified. All trademarks belong to their rightful owners, all materials to their authors. If you are the owner of the content and do not want us to publish your materials, please contact us by email –
[email protected]
. The content will be deleted within 24 hours.