What is Clickbait?
In general, clickbait is misleading or sensationalist content created with the sole purpose of earning page views on a website. Sometimes, publishers use clickbait to drive traffic to their site, so they can earn more advertising money, clicks, or conversions.
Clickbait language is more emotional than informational. Headlines like "You won't believe" or "Try this one simple trick" are meant to spark curiosity or other strong emotions that result in a click. However, the content that follows is rarely informative or verifiable.
Clickbait can appear in many formats, like blog posts, banner ads, and SERP ads.
Examples of Clickbait
This Buzzfeed article does follow some SEO guidelines: its page title and headline accurately represent its content. However, the emotionally charged headline uses a false promise ("guaranteed to make you") to encourage you to click on the article and its affiliate links.
In this example, we see that the page title and URL don't match, and the language is pretty sensationalist. The headline promises we'll be "shocked" by a "superfood" that "melts fat." Its high-stakes offer and exciting language are meant to earn page views and conversions.
Brands can also use clickbait language in a video's title or description to earn views. In the following example, the video's headline uses all caps, extra punctuation, and a titillating image to get readers to click through to their video:
Is Clickbait Bad?
We all want to develop content that draws readers to our website, and there are plenty of content marketing techniques that can help—but all aren't SEO-friendly. 
Google now knows more about your website's content than ever, thanks to its various updates. If your webpage's title, headings, and URL aren't relevant to its content, Google might penalize you, which could severely impact your rankings.
Clickbait can also affect your:
Digital PR: If your website's known for using outrageous claims and headlines to lure traffic, your brand reputation might suffer in the long run.
Bounce Rate: When a user clicks through to your website and doesn't find it useful or relevant, they're more likely to "bounce" away from your site, raising its overall bounce rate.
Backlinks: Earning links from less reputable sites can diminish your Page Authority scoring and your page's rank. 
Can I Rank from Titles and Keywords Alone?
The short answer is no. While some clickbait titles may drive a lot of traffic to your site, Google looks at more than just the number of visitors when considering page authority and page rank.
You may get hundreds of people clicking through to your site daily, but if they click away because your content doesn't match the title and URL you provided, it can affect your rankings.
Best Practices to Avoid Clickbait
Pay attention to your page titles and heading structure. Google's algorithms can understand the content written on your site and will check if it matches its headline and page title.
Google's most recent Page Title Update now enables the search engine to display a "replacement" title tag when your page's title doesn't accurately match its content. To avoid this, make sure your page title and headers accurately represent what your content's about.
Create SEO-Friendly Titles & Headings
Make sure your page's title tag and headings are SEO-compliant and relevant to its content. Keyword research can help you discover target keywords you can include in your page's title, headings, and copy.
Using your target keywords throughout your content signals to Google that your page is relevant to your target keyword. You can use the Keyword Magic tool to discover relevant or related keywords to target with your content or ads. Start by adding a seed keyword to the tool's input and selecting your target country:
The tool returns short- and long-tailed keyword suggestions and key metrics, like their search volume and projected CPC cost:

If you're creating content around your seed keyword, toggle the Questions view to see what users are asking about your topic:
Save any potential keywords to your Keyword Manager. The manager stores groups of related keywords in lists, so you can compare them at a glance or send them to other tools in the suite.
Once you have your keywords, it's important to implement them correctly in your content. Try to include your target keywords in your page title and headings. Use the SEO Writing Assistant to find and fix keyword stuffing in your content, so it's friendly to web crawlers and readers.
For blogging inspiration, add your newly discovered keywords to he SEO Content Template. The Content Template analyzes top-ranking articles related to your keyword, then shares SEO recommendations that can help your article rank similarly.
You can enter more than one keyword into the SEO Content Template: 

The tool makes recommendations for your content's semantically related keywords, readability, page title meta descriptions, and more. It even suggests potential backlink opportunities for your article once it's live: 

Match the User's Search Intent
Much like keywords, your content should be relevant to the user's search intent. There are four common types of search intent: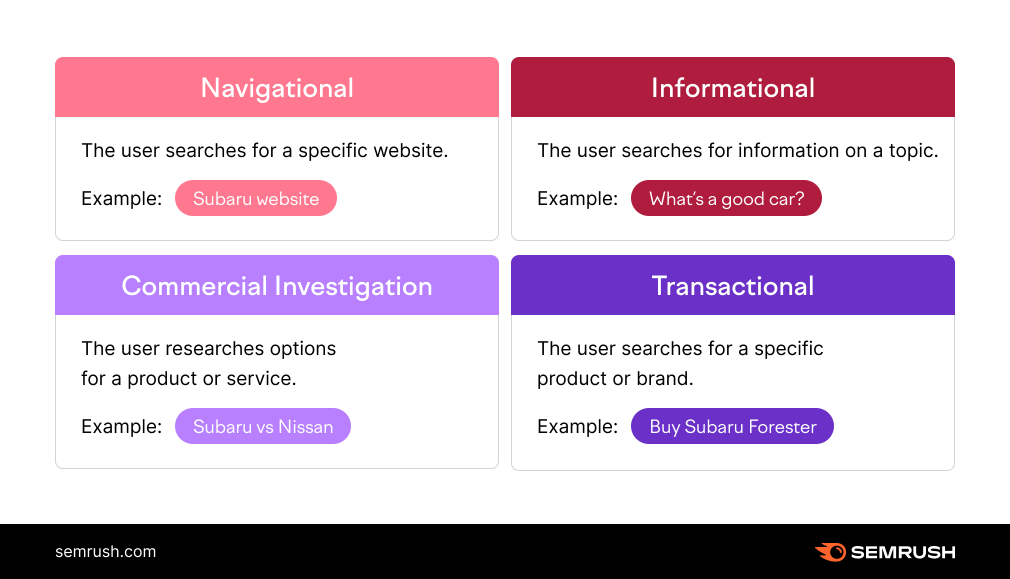 Navigational intent: When a user wants to navigate to or around a specific website, they'll likely add branded keywords in their search (e.g. "Subaru website.") You can target these branded keywords with ads to earn brand awareness.
Informational intent: If a user wants more information on a topic, they might ask questions or use keywords that indicate they're looking for help (e.g. "What is a good car?") Target these keywords with informative content, like videos, lists, or tutorials. Focus on creating useful, actionable content that answers your readers' questions.
Commercial Investigation intent: Once your user decides they want to purchase a product or service, they'll likely perform a search to compare the different options available ("Subaru vs Nissan.") Target these keywords with comparison articles, reviews, and product guides to capture traffic.
Transactional Intent: Certain keywords or phrases signal that a user is ready to buy (e.g. "Buy Subaru Forester.") These users are ready to buy and are now searching for the best value proposition.
They can be susceptible to clickbait while looking for the best deals. Target these keywords with strong, SEO-friendly content that highlights your unique selling proposition (USP.) You can also target these keywords with ads, but make sure your CTA is clear and your landing page reflects what's in the ad. 
Use the Topic Research tool's Mind Map feature for additional insights that can help you determine search intent. Review the latest headlines related to your content idea, and any current questions people are asking about your topic: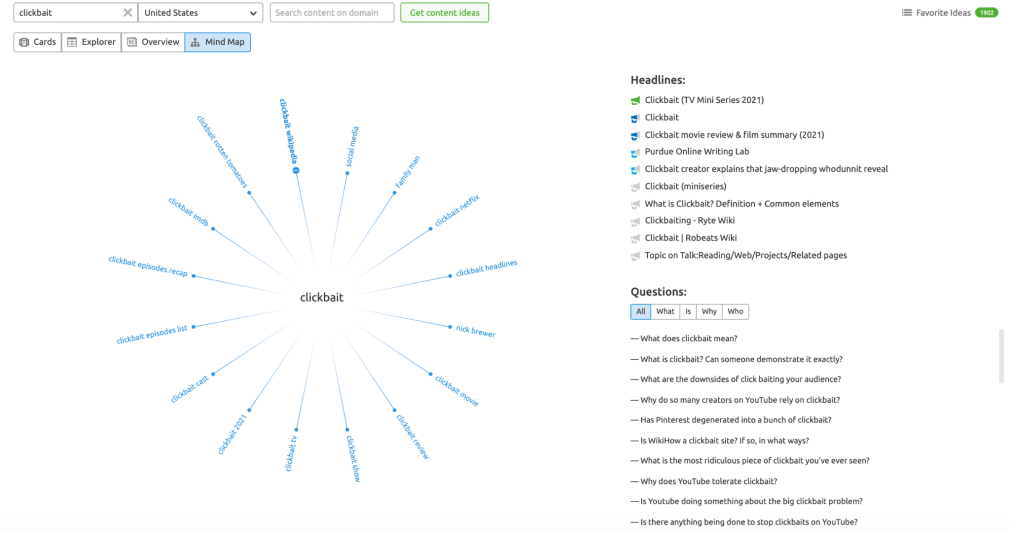 Get Keyword Suggestions
with the Keyword Magic Tool, the biggest keyword database on the market
Key Takeaways
Clickbait is a type of marketing technique used to drive views and clicks—with considerable setbacks to your SEO strategy. 
Avoid clickbait by ensuring your page title, headlines, and URL match your content and your user's search intent. 
Denial of responsibility!
Search Engine Codex is an automatic aggregator of the all world's media. In each content, the hyperlink to the primary source is specified. All trademarks belong to their rightful owners, all materials to their authors. If you are the owner of the content and do not want us to publish your materials, please contact us by email –
[email protected]
. The content will be deleted within 24 hours.