With 2.74 billion monthly users, Facebook is the third most visited website in the world. This makes a prime platform for businesses in search of a target audience.
Thankfully, Facebook caters to businesses with a range of advertising services, including the Facebook Business Manager. 
What Is Facebook Business Manager?
Facebook explains: "[The] Business Manager serves as a one-stop-shop to manage business tools, business assets, and employee access to these assets."
The Business Manager oversees Facebook Ads, Facebook Pages, and other Facebook marketing activities. You or your employees can access these tools with special logins and permissions. 
With these tools, you'll have access to Facebook's customer base (over 2 billion) and any demographic data Facebook gathers. You can use this data to create highly targeted marketing campaigns.
The Facebook Business Manager is not tied to your personal account in any way. In fact, you don't need to have a Facebook account to be on Facebook Business Manager.
Benefits of Facebook Business Manager
Manage multiple Facebook Ad Accounts and Pages in one place: Access multiple business pages with one login. The Business Manager can help you track the performance of each page or Ads accounts from one central dashboard.
Securely share access with multiple people: You can grant access to multiple employees or clients without sharing login information or assets rights. If you've taken some great pictures for an ad, for example, you retain ownership of the pictures even if other team members or vendors use them in other campaigns.
Collaborate with other companies as partners: The Business Manager's "Partners" feature allows you to add other companies as collaborates. You can give your partners shout-outs, share assets with them, and access their followers.
Control how much access each employee has based on their role: Business managers can limit each team member's access to certain parts of the platform. Team members won't have to worry about accessing assets or tools they don't need. You can also easily revoke access to the Business Manager after project completion. 
Build different custom audiences for different ad campaigns: Facebook Business Manager's powerful campaign builder allows you to create custom audience lists, thanks to the data Facebook's users volunteer to the platform. As users tag themselves at events, comment on posts, or join groups, Facebook better understands their likes and interests. The result is an impressive targeting tool that extends beyond simple demographics (gender, age). You can target salary ranges, political ideology, religion, and much more. 
What Is the Difference Between Facebook Ads Manager and Business Manager?
Ads Manager is part of the Business Manager suite of tools. You use Ads Manager to create and track your Facebook and Instagram ads and allocate a budget for your ad campaign.
With the Business Manager, you can work in multiple Ad Manager accounts. You'll use the Business Manager to access assets for campaigns, like images, catalog items, and videos. 
Who Should Create a Facebook Business Manager Account?
You should consider creating a Facebook Business Manager account if:
You have a marketing or social media team. Use the Business Manager to allocate campaign assets and track performance. Each team member can easily access what they need to create a campaign or report on the latest updates.
You are an agency managing multiple clients with Facebook and Instagram accounts: Manage each account from one location, and grant clients access to upload assets or check on reporting.
You need to control who has access and permission to your Facebook page: If you're hiring contractors, you can control the amount of access they have to sensitive materials with the "Roles" feature.
How to Set Up Facebook Business Manager
Let's get you set up on Facebook Business Manager:
Step 1: Create a Facebook Business Manager Account
Visit business.facebook.com and click "Create Account: 
Enter in your business' name, your name, and your email address. Select "Submit."
Step 2: Link Your Facebook Page(s)
Navigate to "Business Settings:"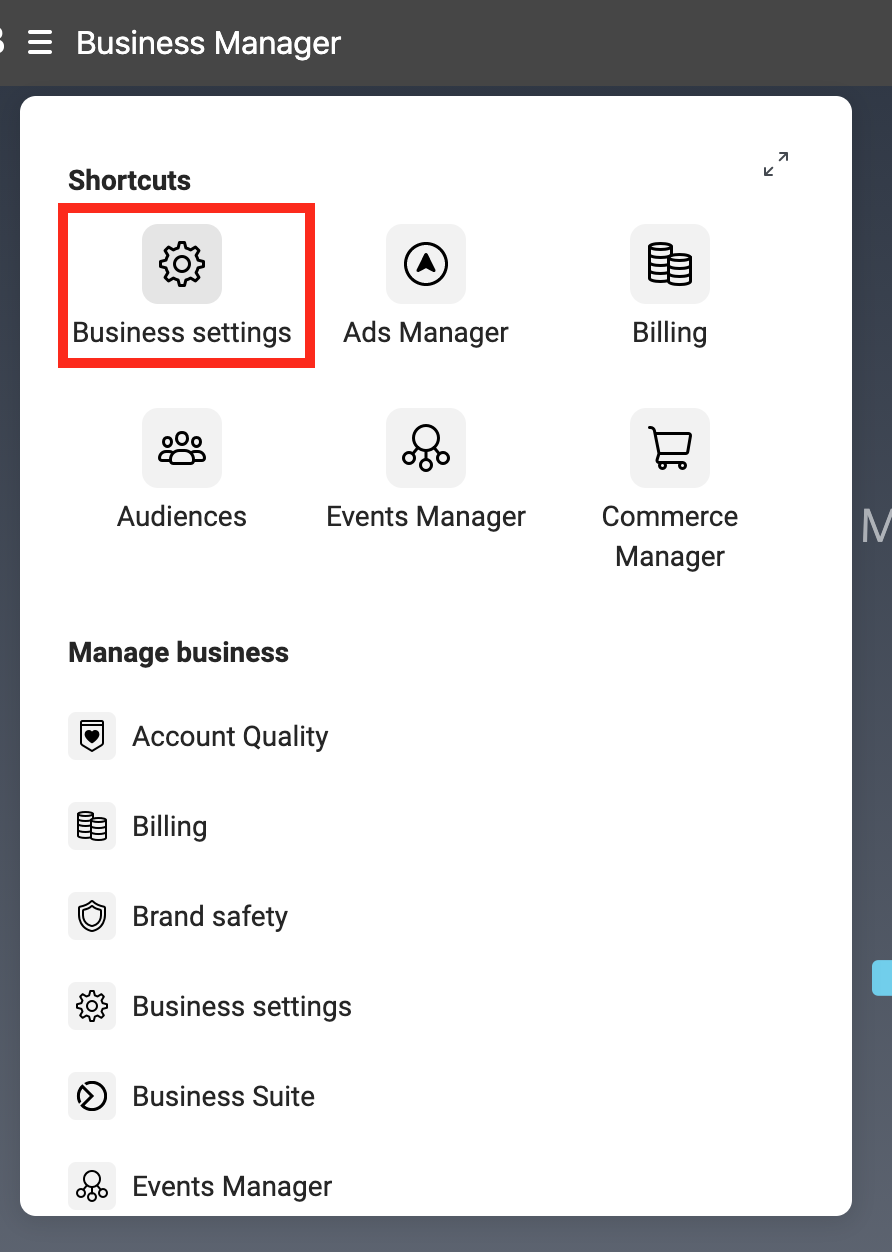 Click "Accounts," then "Pages:"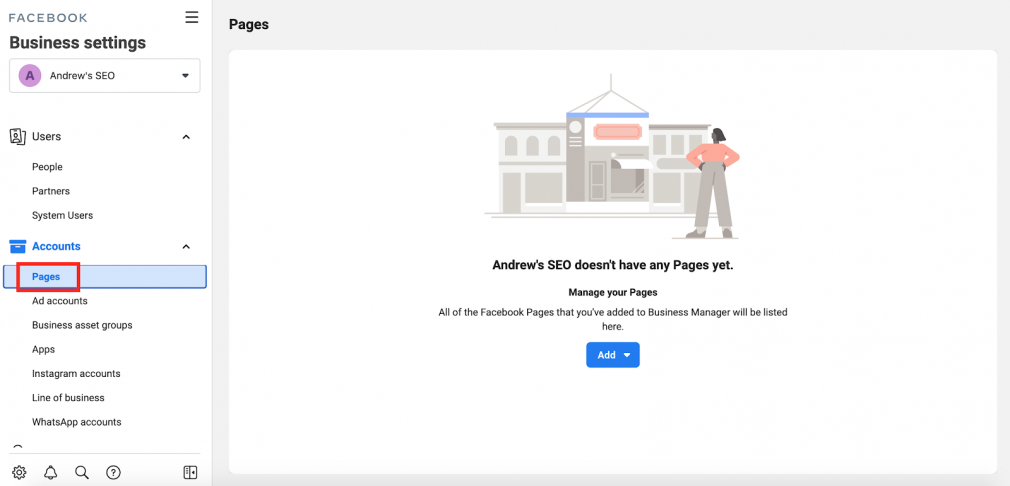 Click "add" to add a page: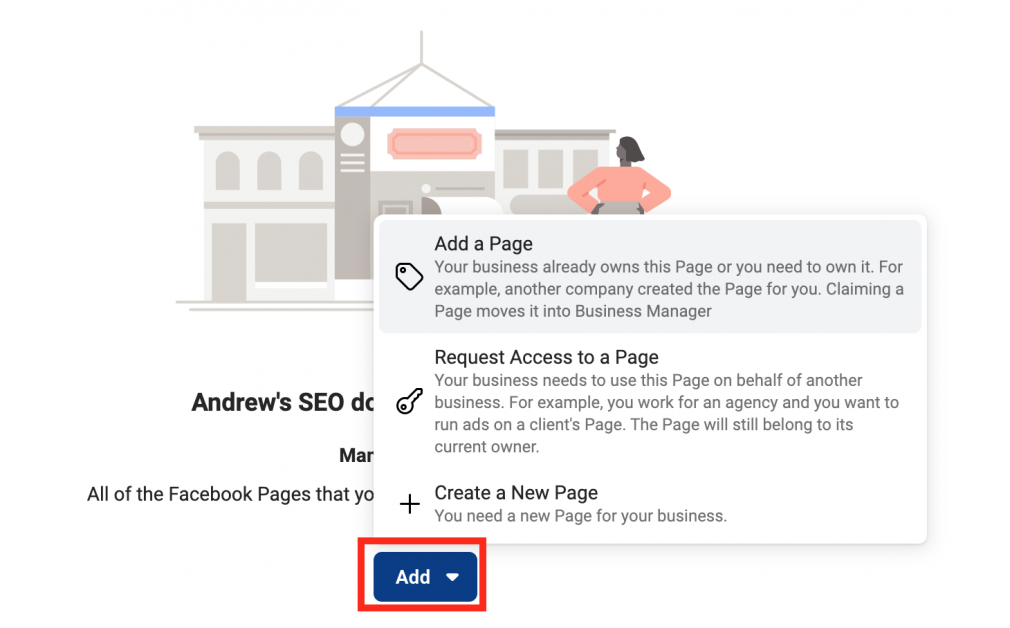 Type your page in the search bar and click "Add Page:"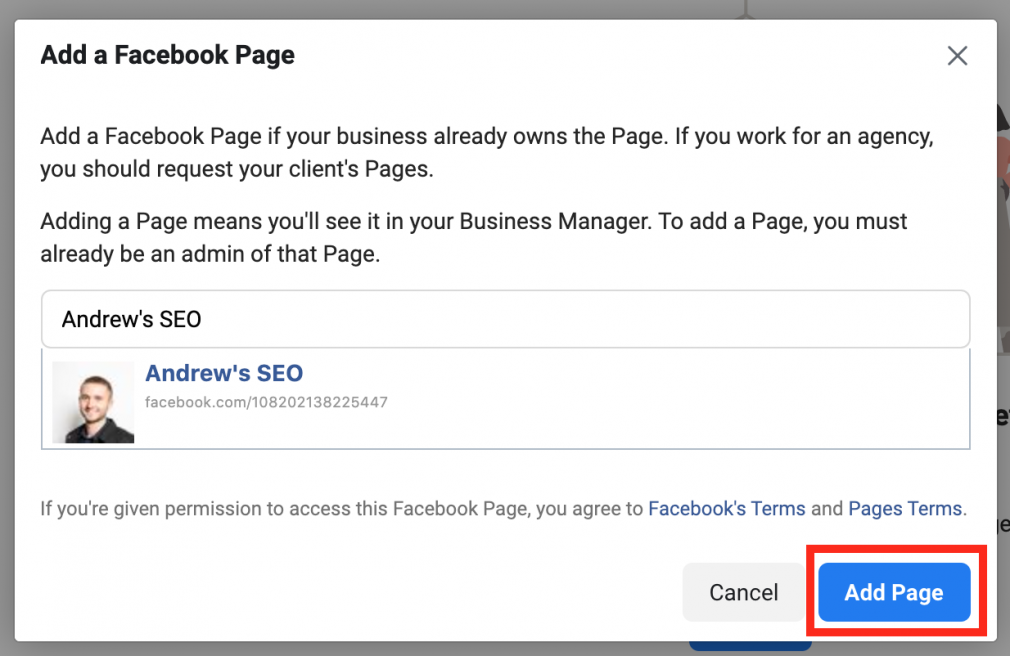 Step 3: Link Your Ad Account
Under "Business Settings," select "Accounts," then "Ad accounts:"
Select "add" then "add an ad account" to enter the ad account ID: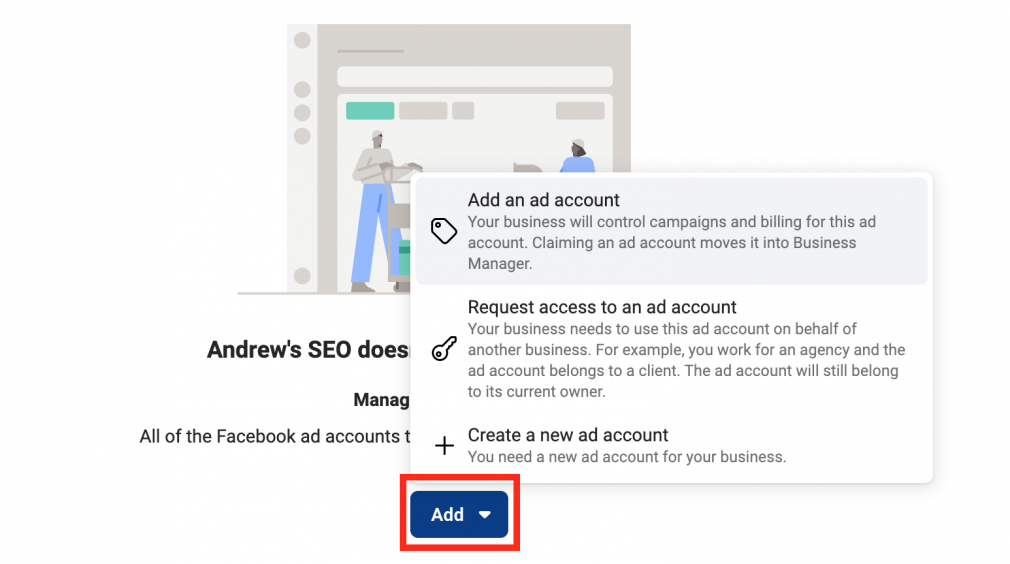 If you don't have an ad account:
In "Business settings," click "Accounts," then "Ad Accounts"
Click "add," and "create new ad account:"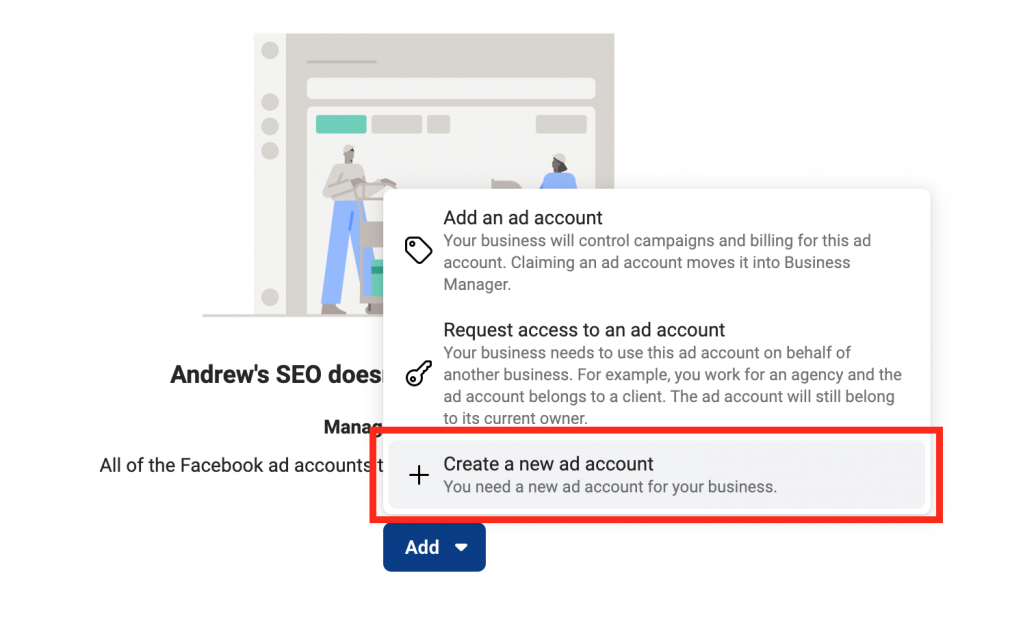 Enter your account details and click "next:"
Indicate if the account is for your business or another business/client. Click "Create."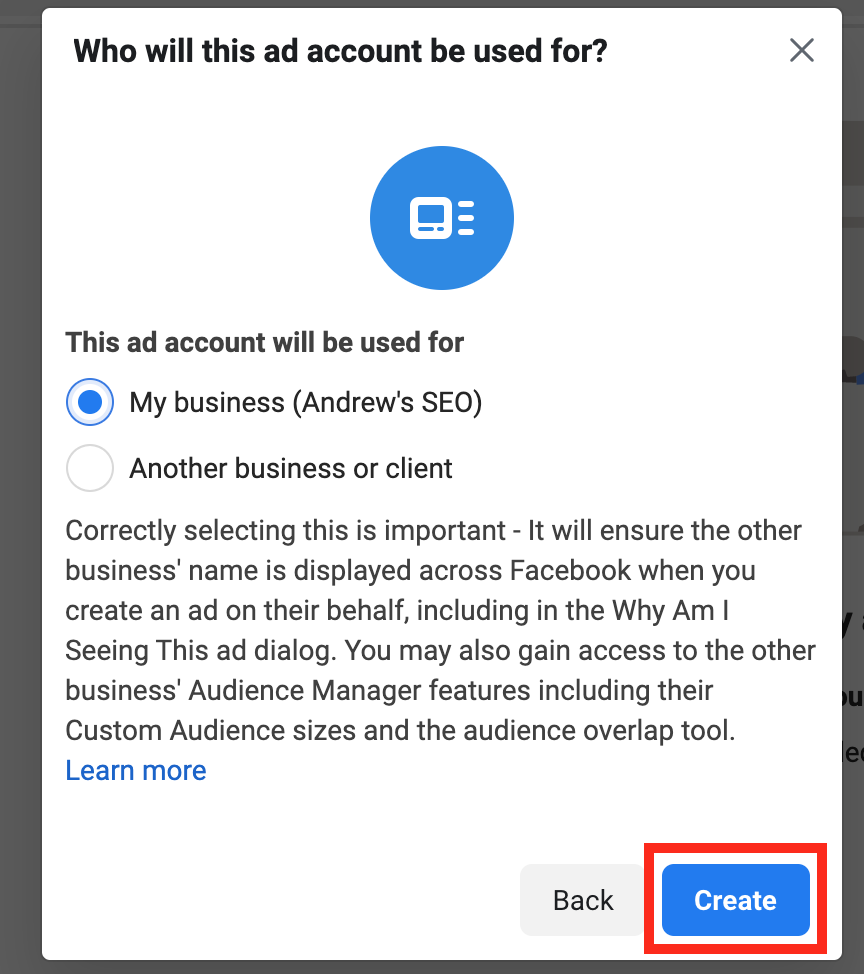 Step 4: Add Users to Your Business Manager Account
From your Business Manager dashboard, select "add people:"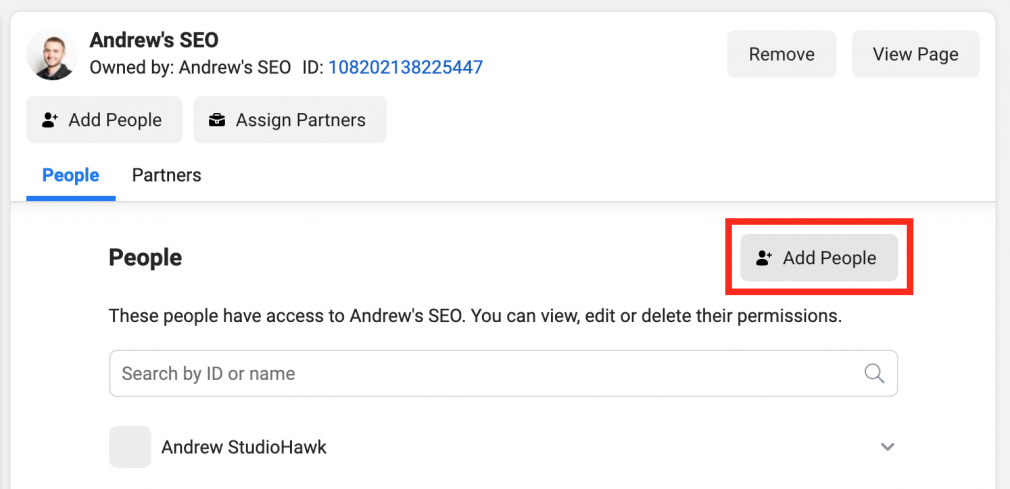 Enter the email address or select the people you want to give the account access to. Select the level of access (e.g. manage account, publish only, etc.) and click "assign:"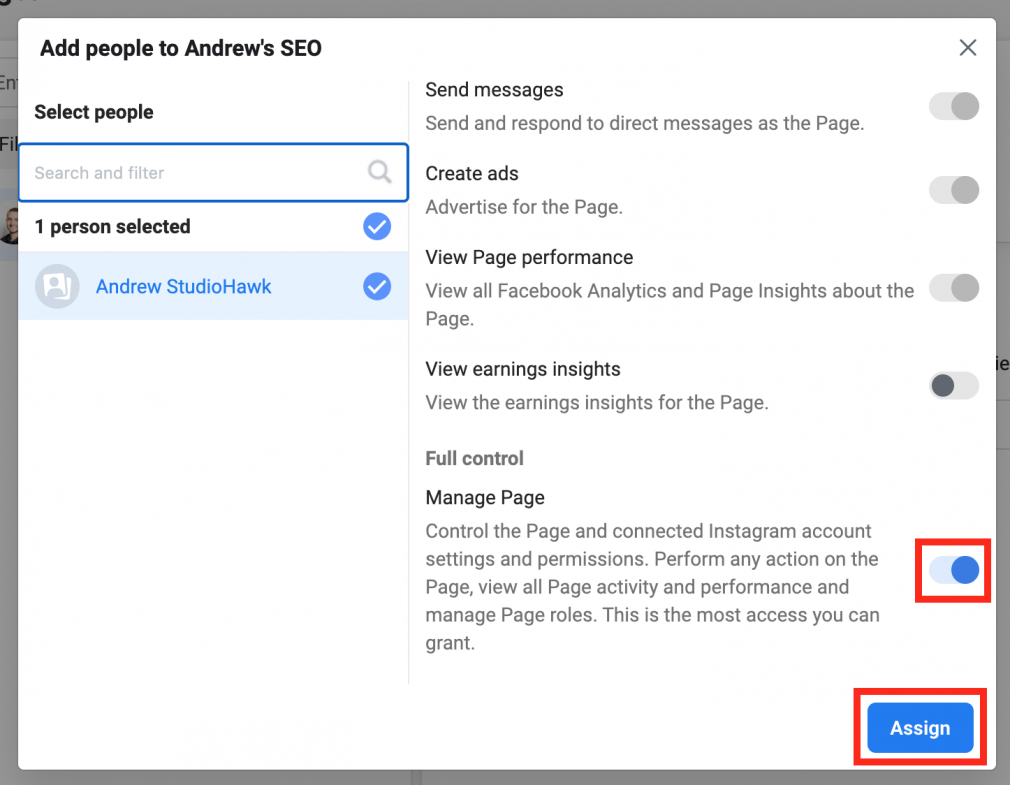 How to Link Your Facebook Business Page with Semrush
With the Business Manager on your side, you'll be able to control multiple business pages and ad accounts. The Social Media Toolkit gives you four tools to further simplify your social media strategy and reporting. Each tool assists the workflow of a social media manager:
Use the Social Media Poster tool to create and schedule posts across major social media platforms like Facebook, Instagram, and LinkedIn.
The Social Media Tracker tool helps you track the overall performance of your competitors' social media channels.
Track your social media (Facebook & Instagram) ad campaigns with the Social Media Ads tool. 
Keep an eye on your internal social media performance with Social Media Analytics tool. This tool keeps track of your metrics on Facebook, Instagram, and LinkedIn. 
Schedule Posts
with the Social Media Poster Tool
How to Link Semrush Tools with Your Facebook Page
1. Navigate to Listing Management and click "Connect"
2. Select the Facebook account that has access to the location and click "Continue" or click "Link another Facebook account:"
3. Log in to the right account and click "OK"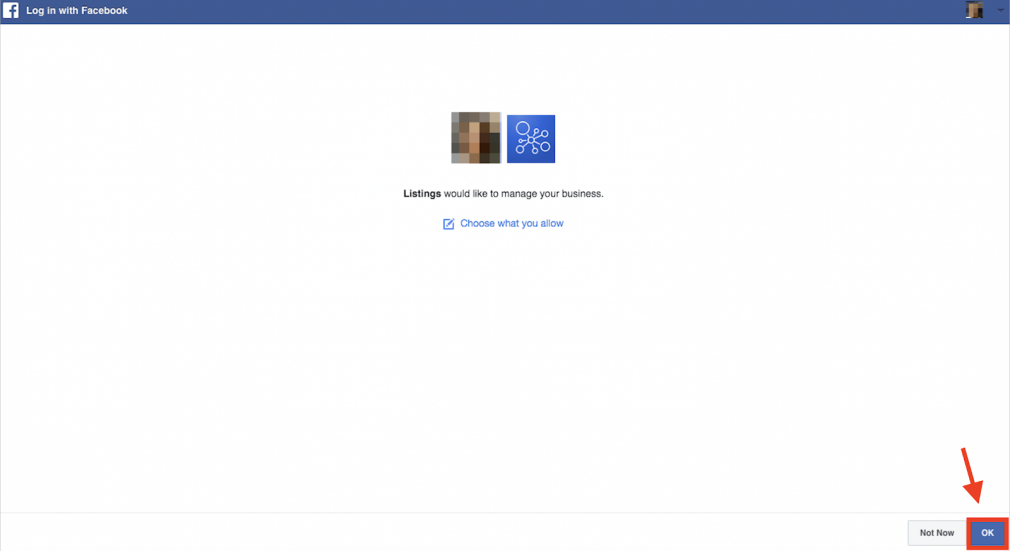 4. Select the FB Business page and click "Sync with this page!"
How to Link Semrush's Social Media Toolkit With Your Facebook Page
1. Navigate to the Social Media Toolkit
2. Click "Set up" under the project's managed profiles: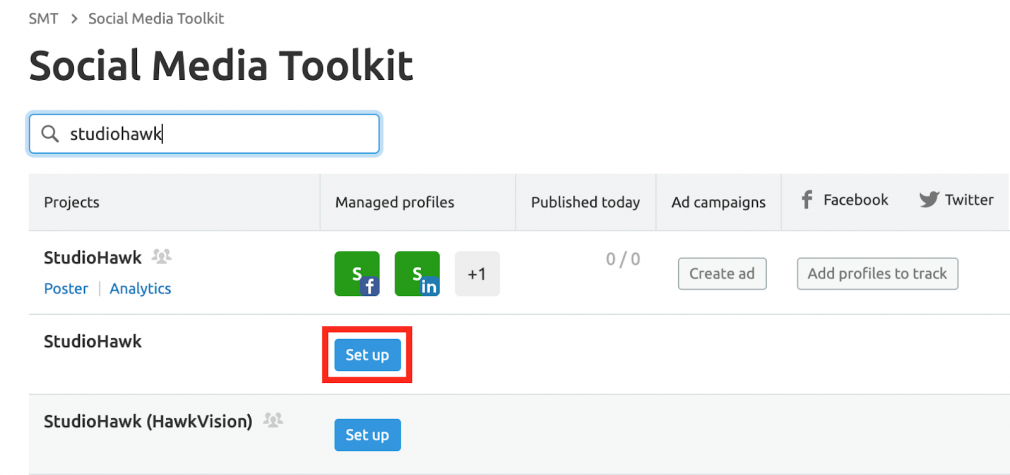 3. Connect your Facebook account by clicking "Connect:"
4. Select the Facebook business pages you'd like to link with Semrush
Facebook Business Manager Best Practices
1. Set up Facebook Pixel: 
A Facebook "Pixel" is a bit of code that lives on a website. It tracks conversions and can help you optimizes Facebook ads, build targeted audiences for your ads, and remarket to leads.
In your Business Settings, go to "Data Sources" and point to "Pixels:"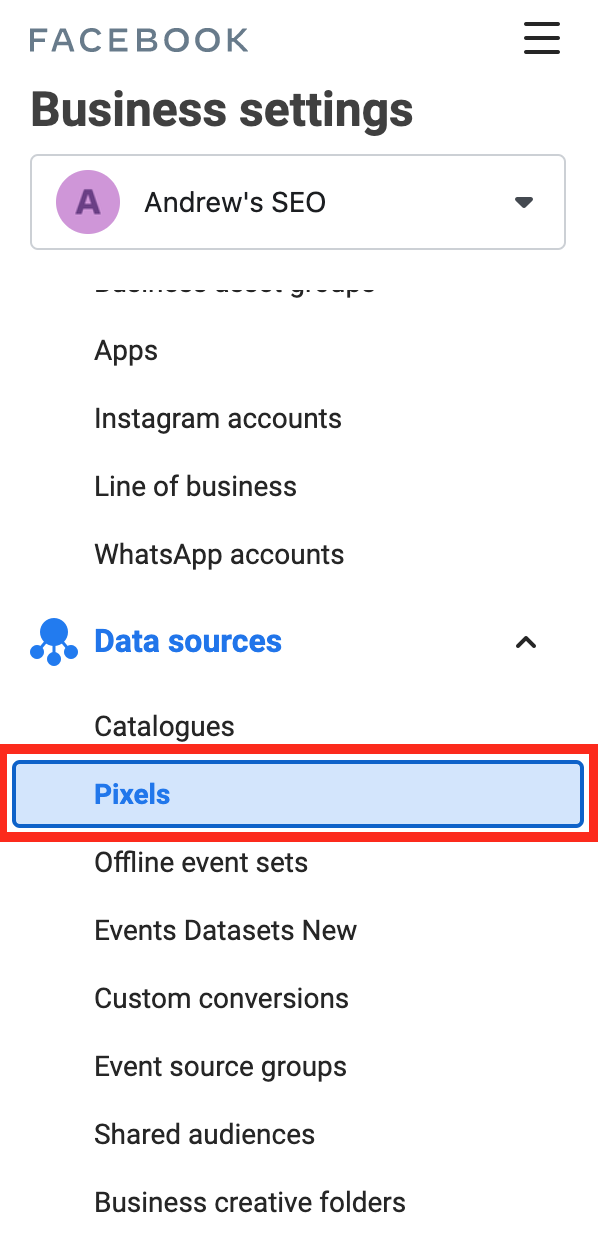 Click "add" and enter the pixel name and website domain. Click "continue:"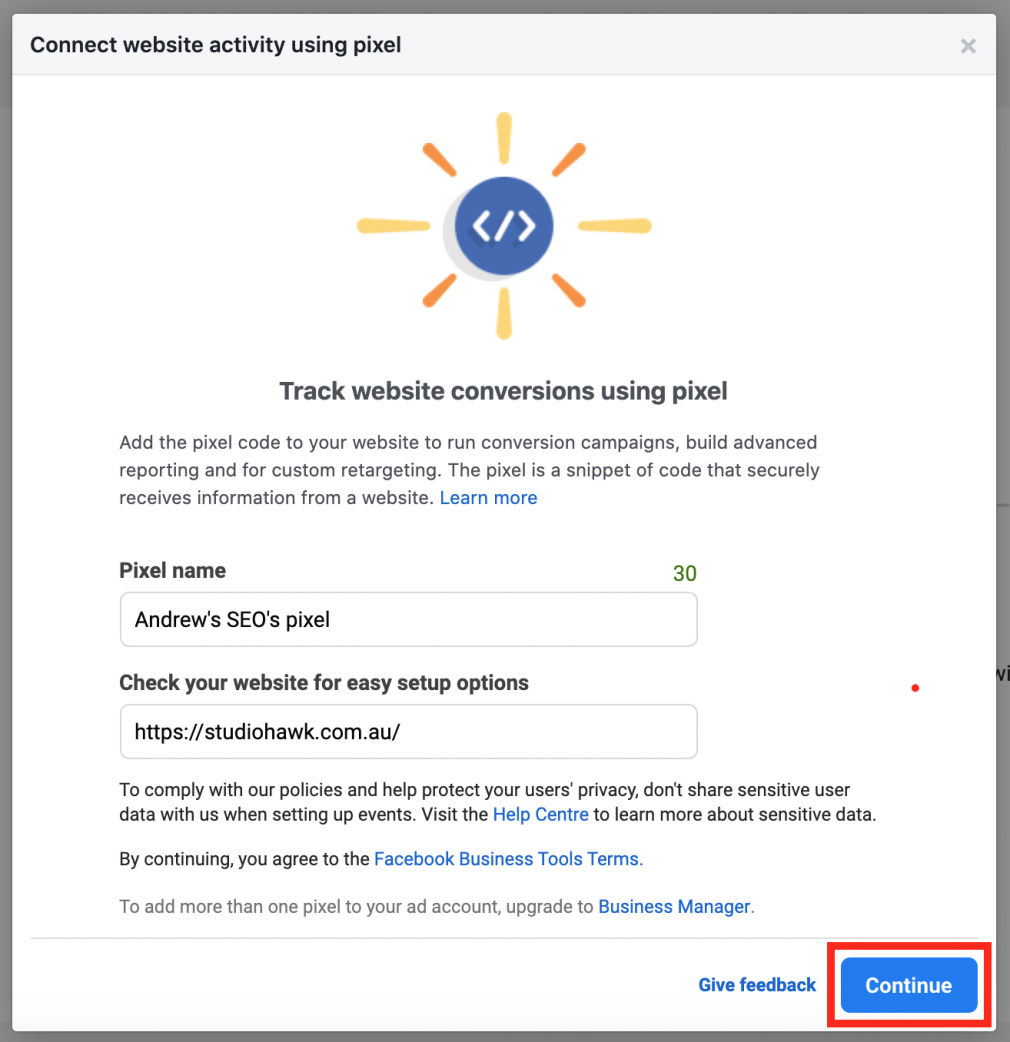 Click "Set up the pixel now:"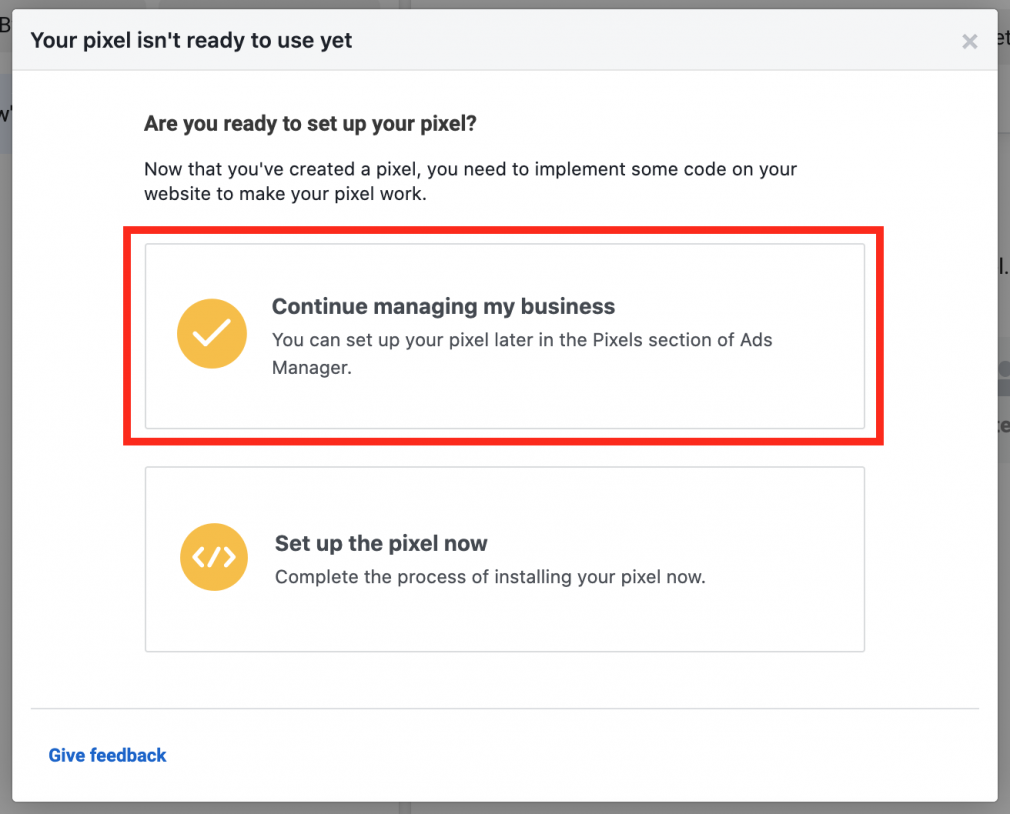 2. Boost Account Security
Facebook Business Manager lets you add an extra layer of protection for your business assets with two-factor authentication. 
In "Business settings," click "Security Center:"
Set up two-factor authentication as "required for everyone:"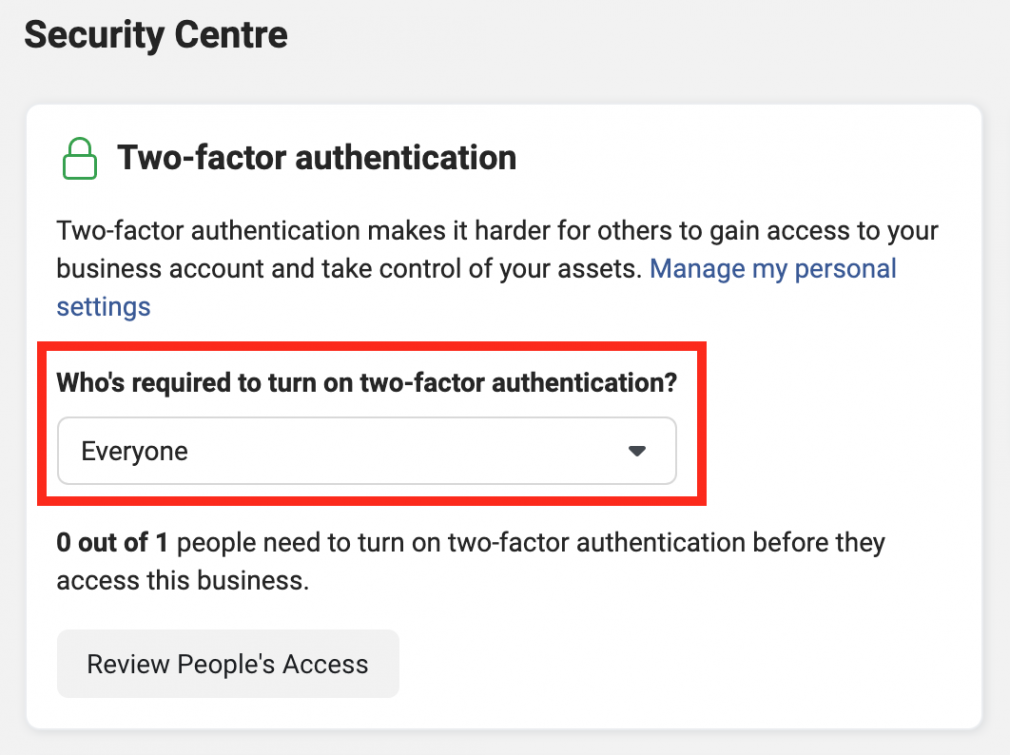 3. Set up Locations with Business Manager
If your business or a business you're collaborating with has multiple locations, you can use the Location function in Business Manager.
Click on the "Business Manager" button at the top of the page and select "Shop locations" under "Assets."
Click "all tools" and under manage business, click "shop locations." Click "stores:"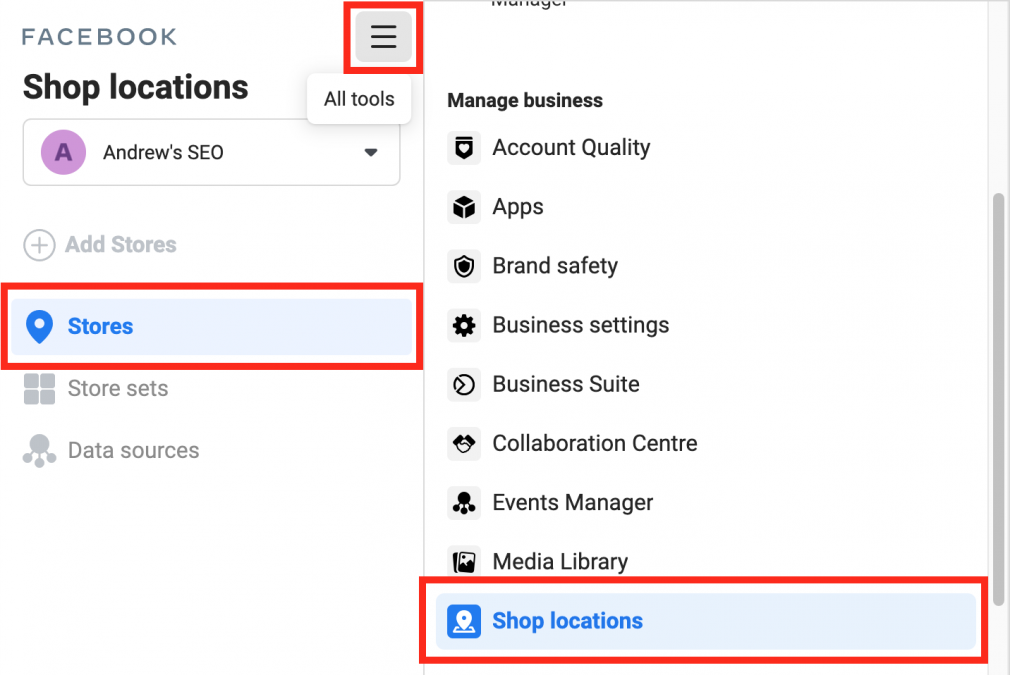 Add the stores manually or use a spreadsheet if you need to add more than 10 shops.
4. Brand Safety
Facebook offers this section with further options for "domains & blocked lists."
Domains allow you to set domains for each business page to verify page ownership.
Blocked lists are ideal for exerting greater control of where your ads are displayed. You don't want ads displayed on link farms, betting sites, or similar sites. If there are certain topics irrelevant to your target or you know your target audience would not visit certain sites, then add these domains to your blocked lists.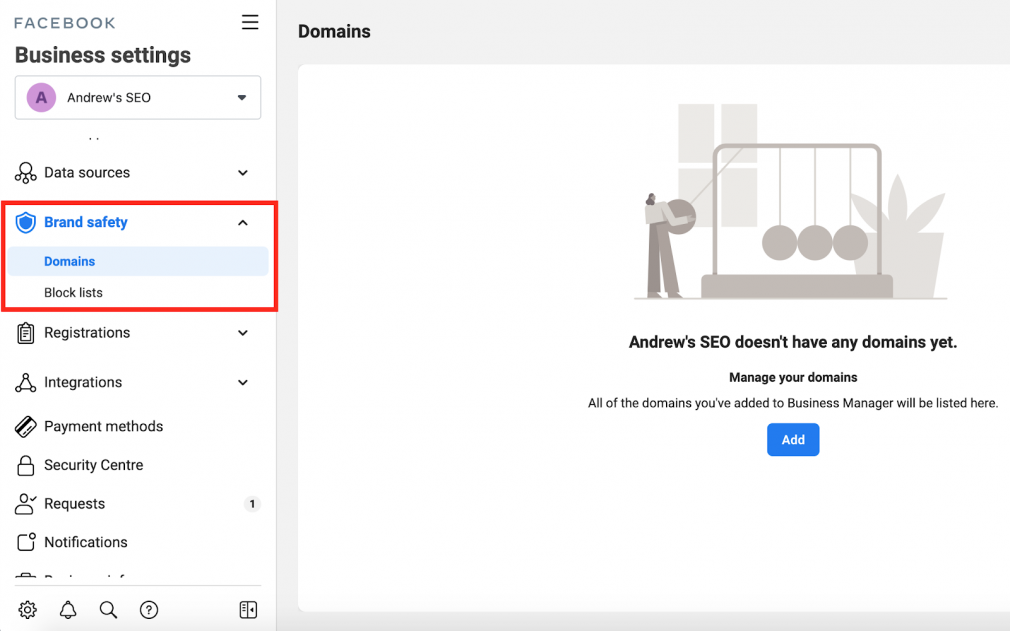 Common Mistakes Made When Setting Up Facebook Business Manager
Giving a User the Wrong Level of Access: Only give admin access to people you trust or team members that truly need it. Routinely go through and check who has access to what, and confirm who should have access with team leaders or managers.
Sharing Access to your Personal Account: Many people think you need to link your Business Manager account with a personal Facebook profile. Avoid involving your personal account altogether.
Not Owning the Manager Account: If you've hired an agency to manage your Business Manager account, ensure you retain ownership of the account. Grant the agency admin access. If the relationship changes, you could run the risk of losing access to your own assets and business page.
Final Thoughts 
With the sheer scale of Facebook's digital footprint, it's a great benefit to create and maintain a business presence on the platform. Facebook makes it easier than ever with the Business Manager.
Take the time to see how the tool can benefit your business or your team. 
Denial of responsibility!
Search Engine Codex is an automatic aggregator of the all world's media. In each content, the hyperlink to the primary source is specified. All trademarks belong to their rightful owners, all materials to their authors. If you are the owner of the content and do not want us to publish your materials, please contact us by email –
[email protected]
. The content will be deleted within 24 hours.