Content marketing strategy is enough to make any startup founder's head spin. There's so much to consider:
What sort of content should you create? Which channels should you be on? Should you start with a blog, or invest in sales enablement content first? Do you need a Tik Tok? The choices are seemingly infinite.
We all know that marketing your startup's product or service is a huge priority. But targeting your ideal customers and creating content without a solid, long-term strategy behind you is a big mistake. Without objectives, a direction, and a way to measure your success, your efforts will be in vain.
But content is undoubtedly the crowning jewel of any brand's online marketing strategy. In fact, a Semrush Twitter poll in early August found that 68% of people agree that startups should invest in content right from the get go.
That's where our content strategy framework for startups comes in. This step-by-step guide — packed full of useful insights and advice from 14 content marketing and SEO experts — will offer in-depth insights and content marketing tips for startup teams. You'll learn how to strategize, develop and measure your progress, so your marketing is as effective as possible.
Download the Ultimate Semrush Content Writing Workbook 
Does Your Startup Need Content Marketing and Why?
Content marketing is a cost-effective means of building brand awareness for startups and enterprises alike. Through search engine optimization (SEO), content marketing connects your startup with potential customers through sharing valuable information. As such, it can become an extremely powerful way of generating website traffic and leads — even if they've never heard of your company before.
Related paid advertising efforts like targeted search and social ads are an excellent way of finding specific audiences — and can have a significant short-term effect. However, it's organic content, guides, lead magnets, and video content marketing that have a much longer-term effect. They can bring in traffic for your business for years, potentially.
There's no way you can really do without content marketing, says Austin Mullins from Conversion Media:
There's simply no getting around content marketing," he says. "Even if you're bringing in visitors via (adverts), without some sort of content to guide them along their journey and assist in converting them into customers, it's extremely unlikely you're going to be able to build a meaningful business.
But What About Pre-Launch or Early-Stage Startups?
Is content marketing worth it if you're very new or haven't even gone to market?
In short, yes — content marketing can certainly be beneficial. Blogs, social, videos and related content can offer a fertile testing ground. Researchers and marketers can use content marketing to gauge audience interest in their products and services, by opening up conversations with their target markets and getting feedback. At the same time, early-stage content marketing can focus on setting benchmarks and building the first milestones.
You might be wondering where to start in that case?
Building your thought leadership through collaborations with industry experts can be one way of kicking off your content marketing efforts. Besides, lower-funnel content like case studies (especially in B2B) is usually highly beneficial at this stage, both for your marketing and sales teams.
Both early and later-stage startups can also benefit from content marketing in more traditional ways. By growing mailing lists, attracting regular visitors, and developing a community, they are in a great position to capture new customers.
As a startup you want to get noticed. Creating content that everyone else is creating won't get you there. Think out of the box like Angi; who asked kids from around the world to draw their dream bedrooms and then brought their ideas to life.
"If you're on a tight budget, whip up original research from public data like Rave who turned IMDB data into the 'World's Favorite TV Shows' infographic," Jitesh from Toggl Plan continues.
Deciding Whether to Invest in Content Marketing for Your Startup
The key to convincing your CEO, investors, or board to invest in content marketing for your startup, lies in being transparent. Not only do you have to be extremely clear on the benefits of content marketing and show exactly how you will define and measure success. At the same time, you will also have to set realistic expectations.
For example, investors in startups operating in a very narrow niche might see that there's simply not enough traffic for their focus (transactional) keyword. So they ask, why bother?
The reality is, sometimes you actually need to build awareness and demand for your product as it is first. And content marketing can help you with that.
This is where top-of-the-funnel (TOFU) content and SEO come in. Startups with this challenge also find that they attract hyper-targeted traffic with their content — which means they can soon occupy their niche.
At the same time, you can't expect content marketing to be an overnight success for your startup. It takes planning, time, patience, and hard work.
"You have to be operating on the right time horizon. When you first start working on growing your organic traffic, you're going to lose money, but it's a channel that compounds," says Mullins. 
"As you build authority, it gets easier to rank new pieces, and your customer acquisition cost from the channel generally gets lower. So while ads may perform better in the short term, if you're focused on lowering your customer acquisition cost, building a more defensible (and sellable) business, etc. over the long term — organic is likely a great investment."
Where Should Your Startup Begin?
The content you create depends on a number of factors, including company objectives, what your audience needs (more on that later in this guide), and your team's skill set.
The important thing to remember is that you can start off with any type of content if it delivers value to your customers AND achieves your business goals. As per RaShea Drake, Marketing Director at Essential Hub:
At a startup you have this really great opportunity in structuring your content to make a big impact. I like to do this by balancing awareness-level content and high-intent content.
"The awareness-level content establishes your authority (and usually has higher volume) while the high-intent content helps to bring those who are closer to making a purchasing decision. Together, you have great content for landing pages, blogs, videos, social posts, etc," she continues. "While startups can be overwhelming, just start with where the most opportunity is and work your way down."
Later, you can diversify your content and distribute it on different platforms. We'll go into more detail later on in this guide.
What Types of Content Can a Startup Create?
The internet world is your oyster. There really is no limit to the types of content you can create — only your budget and imagination can hold you back. However, most traditional content marketing plans focus on the following types of content:
Blog Articles
Articles are great for starting a conversation; positioning a company executive as a thought leader; sharing information with a receptive audience; announcing product launches and updates; answering questions; highlighting company culture and team members… the list goes on. Explore these top 5 blog post templates to get your team started.
Sales Enablement
Bottom-of-the-funnel content can be used to support your sales team in answering frequently asked questions, demonstrate product knowledge and processes, facilitate client onboarding — and much more. Developing this kind of content is also a great way to better link sales and marketing efforts and form a stronger bond with these two related but separate areas.
Case Studies
Case studies are always useful and are often the make-or-break assets that help your leads decide whether or not to work with you. They are especially impactful in B2B content marketing where corporate teams need to see a track record and understand how your product or service has served others in a similar position.
Lead Magnets
Gated content — that is content that requires an email address (or/and other contact details) before it can be downloaded — can be used to grow segmented email lists. High-performing lead magnets (think guides, case studies, infographics, gated videos, whitepapers, etc.) are a valuable asset for startup up content marketers looking to build a mailing list.
Email Marketing
Once you've built your lists through gated content, well-placed calls to action, and ads, it's important to nurture your audience and turn them into leads. You can deliver your news, views, and value straight to your followers' inboxes, which is an excellent opportunity to create different content for different audience segments at various stages in the marketing funnel. Your aim is to move people from one stage to the next, until they become paying customers.
Remember, those who care enough about your content to give you their email address are in some way invested in your startup, make the most of this opportunity.
Download our ultimate guide to building a content marketing funnel for a more in-depth look at this process.
Social media content
Social media is a solid branch of content marketing. It's a great place to distribute content, get feedback, and talk to clients directly. You can create your own images and videos easily in minutes by using customizable social media templates, available on PosterMyWall.

Podcasts
A loyal podcast audience can't be ignored. There's something powerful about growing a following who wants to (quite literally) hear from you. While your topics can be as varied as your imagination dictates, you can also share products and ideas with this group of potential clients. But remember, you have their loyalty and trust, so treat them well.
Videos
Perfect for explainers, product walk thoughts, feature updates, videos are a great source of traffic for brands. YouTube is the internet's second most popular search engine after Google. As such, video content can also boost your SEO efforts, increasing your organic traffic.
As technology improves, we'll also likely see more virtual reality, augmented reality, and mixed reality forms of content marketing.
Content Marketing for B2B and B2C Startups
Regardless of whether you are writing B2B or B2C content, you should dare to be entertaining, educative, and lighthearted.
"You are aiming to engage humans, even in B2B, you need to offer something that they will enjoy reading or consuming and then will do so next time too," she continues.
Emma Hardy from StreamGo also adds:
Inject your personality. People connect with people, so B2B brands shouldn't be afraid to let individual voices shine through content, not just the brand voice.
While the principles of content marketing for business to business (B2B) and business to customer (B2C) are largely the same, the audience characteristics and preferred channels might differ. There are no hard and fast rules — but here's what you need to consider:
Whether you're writing for B2B or B2C audiences, you need to think about your core topics carefully. As per Wesley Ferguson from WesWorx Digital:
Plan pillar content elements strategically (SEO Insights) so that it is easy to keep supporting those pillars with the various content pieces you create, irrespective of which part of the funnel you are targeting
9 Steps to Building a Content Strategy Framework for Your Startup
Building a strategy should not be a cause for stress. In fact, strategizing brings clarity and a laser-like focus to your overall business plan.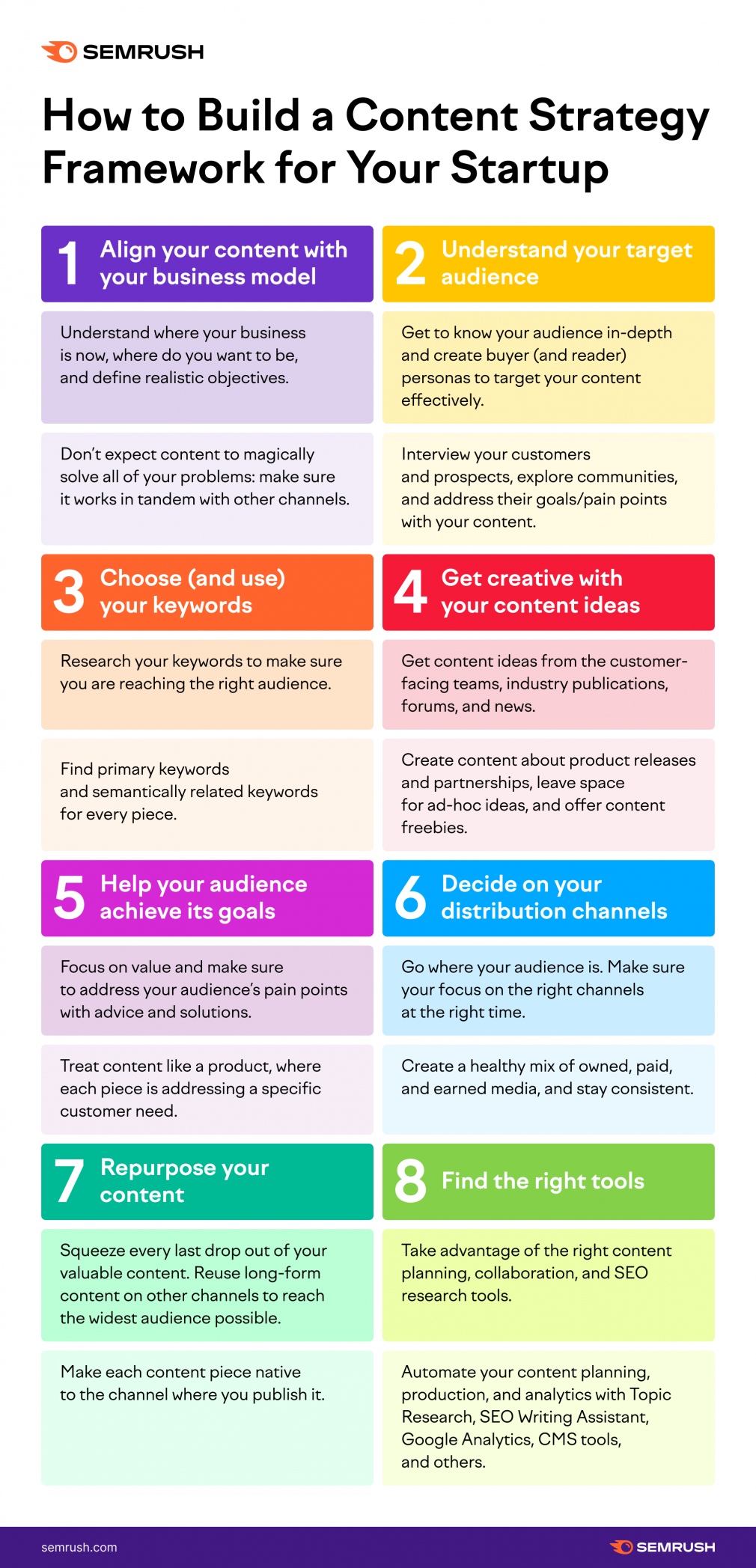 Here are the steps we recommend you follow:
1. Align your content with your business model
Nothing is more important than building a digital marketing strategy that fits with a startup's business model. In a recent conversation, Mark Rogers from Animalz told us:
Content strategy specifically needs to be tied to the business model," Rogers said. "If your content is not supporting your business, then you're honestly wasting your time.
As a startup, your content marketing strategy also needs to serve as a roadmap for your business. You should first be thinking about:
Where You Currently Are
Your first step is to analyze your current situation:
Team: Who are you working with? Are there any skill gaps? Will you need to hire or outsource?
Revenues: What is your Monthly Recurring Revenue (MRR)?
Budget: What is your marketing budget for the next quarter?
Competition: Who are you facing up against? What can they deliver that you cannot and vice versa? What makes your offer best for your target market?
Pricing: Are you in line with market expectations? Are you too cheap or overpriced?
Marketing: What's in place? What's working so far? What needs to be improved or cut? Which targets have you set?
Do a deep dive and really understand where your business is. This is the only way to have realistic expectations for the future.
Where Do You Want to Be
Now you have a firm understanding of your company's performance and status, you can set attainable targets. Your business objectives will form the foundation of your content marketing plan. Without them, you will be sailing a boat without a rudder.
Your objectives should be:
Clear: What do you want to achieve?
Realistic: Based on your current benchmarks, resources, and skill set, can you achieve them?
Limited: What are your deadlines? How many resources should you throw at the problem?
Measurable: What are your key performance indicators and metrics?
On the last point, you need to start by working out what success looks like. If you want to increase revenues by 30%, lots of likes on a blog post won't help you. But clicks through to a high performing sales page from social media will. Set your metrics accordingly, making sure your team knows what they need to achieve.
2. Develop a Deeper Understanding of Your Target Audience
Frankly, all the great content in the world will not help if you do not know your audience. It's therefore imperative you understand your customers' objectives, pain points, and objections.
It's easy to want to boil the ocean from the outset. Instead, take the time to really dig into who your customers are, the kinds of content that will delight and motivate them, and where they'll be when they read it.
"Decide what you want them to do, and how you're going to measure success. Then create the best darn content out there, and make sure they see it using good SEO practice and smart amplification," Lisa Sherwood from Perficient continues.
Start Talking to Your Audience
Even (or maybe — especially) content marketers can benefit from taking part in customer development and research as it helps you understand what kinds of content to create. It's time to research and get a good mix of quantitative and qualitative information. Alongside running surveys and reviewing analytics, you should also talk with your clients (or potential clients) directly. Interviews, focus groups, and questionnaires all work well for this.
Ryan Paul Gibson from Content Lift also urges startups to talk to their customers to help build an effective content campaign.
Here's an easy way to find relevant topics," he says. "Interview some customers or prospects and map out their buying journey. Turn obstacles and pains at each stage of their buying journey into pieces of content. This allows you to influence and educate buyers at each section of a purchasing funnel, leading to your product as a solution.
Go Where Your Audience Is
You should also be hanging out in all the spots your audience does, online and offline. Your goal is to learn how they talk, tells us Stuart Balcombe from Procket:
Publishing original content is only half the equation. Spend just as much if not more time exploring, engaging and sharing in communities and places where your audience hangs out to steal their language and identify content opportunities you won't find in keyword data.
As this article on how to research content topics examines, identifying someone's pain points just takes a bit of thought and time. The pain points you discover will then provide inspiration to help you get that content machine whirring, Balcombe says.
From this groundwork, you can also create buyer personas, which can be used to focus your content marketing efforts long into the future. Here's what Anita Toth has to say about it:
As someone who works in customer retention, I always try to let startups know that all their content should be focused on the right customers — customers who will buy and stay. When creating a content strategy, focus your energies around your best customers, speak to them and help solve their problems. Later on when you're in the growth stage, then you can focus on expanding your content strategy to other customer groups.
3. Choose Your Keywords, and Use Them Well
A recent Semrush Twitter poll found most respondents agreed that early-stage startups should focus on SEO over anything else. The good news is, once you know what language your would-be clients are using and understand their pain points, you will have the means to make the most of writing SEO content.
And it is important: Semrush's SEO Writing Assistant data shows how well your text complies with SEO recommendations based on the top 10 ranking pages for your given keywords, in a given location. Recent Semrush research based on this collated data found that 44% of posts that score low in SEO terms either did not have defined keywords, or did not bother to include them in the first place. Worse still, almost three-quarters of the low-scoring articles did not include a keyword in the title.
Doing Your Keyword Research
Before producing your next piece of content, you should therefore sit down and research your keywords. These can be divided into:
Primary keywords
Your primary keywords should strike a balance between reasonably high search volume and lower keyword difficulty in your target region. This will give you the best chance of ranking for valuable keywords. Remember that as a startup, you might find it more difficult to compete against well-established websites. So, focus on those low-hanging fruits and leverage your expertise through niche content and keywords.
Aim for long-tail and mid-tail keywords (that is, keyword phrases) rather than generic head terms (single or double-word keywords), so long as they are not too competitive (hard to rank for according to the data). This is because long-tail keywords do a better job of showing what a person is searching for. For example:
As a keyword, "Barcelona" will have lots of search volume, but those searching for it might be looking for a variety of things: history, food, the soccer team, places to stay, etc. It's therefore not a helpful word to target on its own because it doesn't show you what your audience really wants.
Family hotels in Barcelona (long tail)
As a long-tail keyword, it's much clearer what the person searching intends to do. Optimizing your content for this keyword will ensure you reach a relevant audience.
Semantically-related keywords
These words and phrases help search engines understand what your article is about. Following the example above, think "comfortable beds", "breakfast included", "all-inclusive", etc. Tools like Semrush's SEO Writing Assistant can help you by suggesting semantically related keywords to include in your copy and content.
Selecting the Right Keywords
If you are stuck for ideas on which keywords you should pick, to begin with, Dan Shaffer from WebFX recommends kicking off with some of the easier options.
Build content strategy around some low hanging fruit – long tail keywords that are easier to rank for within your niche. You'll validate your ideas much faster, attract the right people, and actually rank on Google!
Using Keyword Research Tools
You can use a number of keyword and topic research tools to help you discover what to target.
Semrush's Topic Research tool is a good place to start. Simply enter a topic to get started and the tool will generate cards with related subtopics. It will display questions, mind maps, different headlines and related searches full of relevant ideas. You can also use to analyze specific competitor websites.
Semrush's Keyword Magic Tool: This helps you research how much search volume a keyword gets, what's the keyword difficulty and what are the alternative related phrases. Use this tool to build the long-tail keywords for your content plan.
Looking at our previous examples: "Barcelona hotels" gets 3,600 searches a month in the US alone, but is hard to rank for with a keyword difficulty of 72$. Unless you are a giant hotel chain with extremely strong online presence, you might want to aim for something more attainable.

On the other hand, "Barcelona beach hotels" gets 480 searches a month in the US, but is far easier to rank for with a keyword difficulty of 37%.
How to Achieve SEO Results When You're Starting from Zero
When thinking about which keywords you will use, it is important to walk before you can run, says Conversion Media's Austin Mullins.
While the high traffic terms may seem sexy, they are generally too competitive for newer sites, and often do not convert as well anyway. Focus on high-intent keywords first, then work your way up the funnel.
"Focus on realistic keywords," Mullins said. "While the high traffic terms may seem sexy, they're generally too competitive for newer sites, and often don't convert as well anyway. Focus on realistic, high-intent keywords first, then work your way up the funnel."
Chasing huge keywords as a startup can see new companies burn themselves out as they try to compete in sectors they cannot gain traction in, or achieve strong rankings on search engines, he warns.
4. Help Your Audience Achieve Its Goals
Even back in 2007, the Pew Research Center reported that the internet was a go-to source for people looking to solve problems and overcome the challenges they faced daily. Just imagine how many more people are turning to the net to fix issues more than 13 years later.
That is why one of the key ways you can best get your content in front of your target audience is to offer problem-solving for the pain points they are trying to overcome.
"Treat content like a product," Stuart Balcombe explains. "Each piece needs to address a specific pain point for its target market and be easy to distribute and share. Look for opportunities to differentiate by adding videos, tools, and templates to increase content value."
Some of the key questions you should be asking yourself include:
What issues do people in my industry struggle with?
What keeps them up at night?
What, in spite of these problems, are they trying to achieve?
At the same time, you should be talking about what you know.
"Avoid 'me too' content," continues Balcome. "Identify the topics you and your team are uniquely qualified to talk about either because you have deep experience, access to proprietary data, or can interview inaccessible people vs curating top 10 search results."
Furthermore, you should consider which problems to leave out.
"Shelve pre-awareness content", says Jitesh Patil. "Instead, focus on topics where you can show how your product/service solves customers' problems. For inspiration, see how Hotjar weaves product features and use cases in their blog posts."
Once you have nailed those core ideas down, you will have a strong starting point for producing some seriously meaningful content.
5. Get Creative with Your Content Ideas
While keyword research IS important, it isn't your only source of content ideas. Remember, your customer interviews, feedback, product updates and internal knowledge are all important
Some of these sources of content ideas include:
Insights coming from your Sales, CSM, and Account Management teams
Reviews and customer support requests
Industry trends and major publications
Competitor analysis
Industry events
Forums, chats, and other community hubs
Product updates and releases
Thought leaders in your sector
News outlets
"Piggyback off a core, periodically recurring business operation (feature launches, new major clients, in-platform content releases, product announcements, new major partnerships, new market entries, etc.) to reduce production costs and create unique content aligned with the company USP," says Matthew Elsner, Analytics Lead at NTT DATA UK.
It's also about being spontaneous:
"Leave space in your planning for ad-hoc ideas that can come across you any time, that you and your team can get excited about — this is not only of motivational power to yourselves but will make your content output really enjoyable," says Andrea Schenk, Marketing Director at Commsignia.
And generous! As Content Marketing Manager at streamGo, Emma Hardy, says:
"We all love a freebie! Try to differentiate your content from everything else that's ranking by adding in that nice little 'extra' that the user doesn't already have. That could be a free template, checklist or your own unique data."
6. Decide on Your Distribution Channels
There are dozens of ways to target your potential customers, build brand awareness and distribute your content. Many startups focus on one or two of the following types of content:
Building a list of emails subscribers
Producing valuable social media posts
Blogging
Video marketing
Engaging in influencer marketing
Podcasting
Creating lead magnets like guides, white papers and infographics
And many more.
But you have to be selective when building a content strategy framework for your startup. The limited resources you have to be funneled into the channels your audience already spends most of its time.
Luckily, there are lots of sources online that can help determine which channels are most likely to help you build a successful content marketing strategy that is closely aligned to the needs of your business and your audience.
As we have written before, your content will live and die by your choice of promotion and distribution. In your plan, you should think about:
In-house channels. Owned content distribution channels, which includes your social media pages, websites, and mailing lists — will be central to your brand and messaging.
Third-party channel. It is equally important to remember your other channel options:
Earned media. These include posts shared by your audience, journalistic publications, review sites and other non-paid content published by third parties.
Paid media. Paid options include many types of influencer posts, guest posts, and sponsored content.
Timing and Delivery
But it is not just about where you publish your content, it is also about when and how you publish — and about being reliable. The questions to consider are:
Does your audience check its favorite channels before, during, or after the workday?
Does it respond more readily to one form of content over others?
Staying Consistent
Consistency is extremely important for startups, says Alexandra Suarez Ross, Content Marketing Manager at Unsupervised:
Content Marketing for startups is all about being consistent. Once you find something that works, keep it going! Consistency helps to build trust with your audience and nothing is more important than trust for new startups.
Working Smart Not Hard
Also, while we are on the subject, remember to make the most of scheduling options. You do not need to be behind a computer for hours a day on weekends to reliably publish content.
You can schedule publications ahead of time. Just be sure to check in with responses to drive community building if responses start piling up.
7. Repurpose Your Content Goods
For startups, producing content is going to be challenging, not least because there is so much to do while running a new business and barely enough time to do that.
While your end game should be to one day build a solid content team to push out the goods, the reality is that very few startups can afford such an organization when they are starting out.
As a result, each piece of content you produce needs to be squeezed for all the juice it has, to make sure it is as cost-effective as possible. That's where repurposing content comes in. Here's what Tristan Keelan, Director Of Business Development at CCNY has to say about it:
Ten-times your content all the way. There just isn't time to churn out piece after piece as a soloprenuer. But building long-form content that you can share in a lot of different settings is the best return on investment for time spent.
Another key element of repurposing content is to make it native to each of the channels you want to publish it on. Some of this will be relatively straightforward, such as changing the tone of voice of a piece of content you published on LinkedIn before publishing it again on Facebook.
However, opting to repurpose a text post on a visual-led network, such as Pinterest, or via a long-form blog site, like Medium, will require more work to make sure engagement and shares remain high.
Thinking Quality
When creating content, one thing to not skimp on is professionalism. A key part of a successful business trajectory is not to "act" like a startup at the expense of your budding reputation. While comedy shows like Silicon Valley might celebrate the juvenility of a new business, your content should always be mature and of high quality.
"Don't immerse in your 'startup-ness' too much," says Andrea Schenk. "Aim for the same level of professionalism and confidence as any established company or where you see it going in the long run."
8. Assemble an Arsenal to Boost Your Blog Posts
With so much to do, and limited time and marketing budgets, you are going to need all the help you can get to make it worth your time, and as easy as possible. For that, you will want to max out on tools.
One important port of call is Google. Google Drive is absolutely packed full of great options to help you turn out good content (think Google Docs and Google Sheets). You can also run your key pillar topics through Google Trends to see how they are trending and find the related queries you could potentially produce content on.
Topic Research is another tool for discovering trending topics and content ideas to include in your plan.
Keyword Gap will help you find the keywords your competitors' blogs rank for, but that yours do not, and Keyword Magic Tool will help you to come up with complete keyword lists.
SEO Writing Assistant can make your life easier by automating the content optimization process — it'll score your copy and suggest improvements related to SEO, readability, tone voice, and originality.
Grammarly might be useful for quickly checking your spelling and grammar — when working in startups, things happen fast, and yet you need to proofread every piece that goes live.
Google Analytics and HotJar are must-have platforms for any startups looking to develop a data-driven approach to content. Use them to analyze content performance, as well as understand your audience and find potential gaps in your strategy.
It's Time to Shoot for Content Gold
Now you are ready to start producing content to drive sales and bring increasing numbers of customers to your budding business.
It might not be something you previously imagined doing but armed with this advice you stand in good stead to make a real go of producing meaningful blogs, videos, or infographics — or whatever type of content that suits your audience best.
Remember that your content needs to speak to your audience where it hangs out, in a tone of voice it recognizes, about the issues that really matter to it. To make sure you find the best and most relevant content ideas, optimize your copy for success and constantly improve performance, try the Semrush Content Marketing Platform.
Create a Winning Content Marketing Workflow for Your Startup
Explore the Semrush Content Marketing Platform.
Denial of responsibility!
Search Engine Codex is an automatic aggregator of the all world's media. In each content, the hyperlink to the primary source is specified. All trademarks belong to their rightful owners, all materials to their authors. If you are the owner of the content and do not want us to publish your materials, please contact us by email –
[email protected]
. The content will be deleted within 24 hours.