If a user comes to your site to find high-level information on how to solve their problem, it's not always realistic to expect that they'll also be ready to make a purchase right away. Think of it as a business partnership. Two relative strangers have one meeting and then sign docs to be business partners the next day. It could happen, but…unlikely.
Therefore, content created for that type of person should be focused on other goals beyond selling. "Let me convince you" — type content that's provided too early in the prospect's decision-making journey may very likely turn them away from your company. On the other hand, making sure the selling content is placed where it's supposed to be and in the right quantities is crucial for your business.
So, what's the solution? What can you do to increase the likelihood that the content you're creating, publishing, and promoting will speak to your intended audience, at the appropriate time and in the appropriate way?
Content mapping is your answer.
In this post, we'll review:
What content mapping is and why you need it
The proper content mapping steps
Tools for content mapping
We also created a content mapping template to help you easily make a content map of your own. 
Download the Free Content Mapping Template Bundle
Discover 5 templates to help you build a high-performing and customer-centric content map.
What Are "Content Maps" and "Content Mapping"?
Content mapping is a strategic approach to creating helpful, relevant, informative, and timely content for your intended audience. In other words, it's a process focused on delivering the right content, to the right people, at the right time, and in a way that matches the reader's intent. Content mapping can be helpful in identifying gaps and opportunities in your content strategy. 
One of the most important components of content mapping involves the creation of buyer personas for different members of your audience (e.g., decision-maker vs. influencer) and their different stages of awareness and interest.
Who Typically Creates a Content Map?
Creating a content map is usually the responsibility of whoever oversees the content program within your organization. Their titles might include Content Director, Content Strategist, Content Marketer, or Generalist Marketing Manager. 
Why Is Content Mapping Important?
Content mapping can help ensure you're getting the most out of every piece of content that's being created for your company. It also helps you eliminate content that doesn't serve a clear purpose. 
With the content mapping process implemented, you'll be sure that:
Each reader is gradually moving through the sales funnel towards buying your product or service;
Each piece of content serves a specific purpose and is fully optimized for it. 
Content Mapping Steps
Here are some helpful steps and best practices for creating your own content map.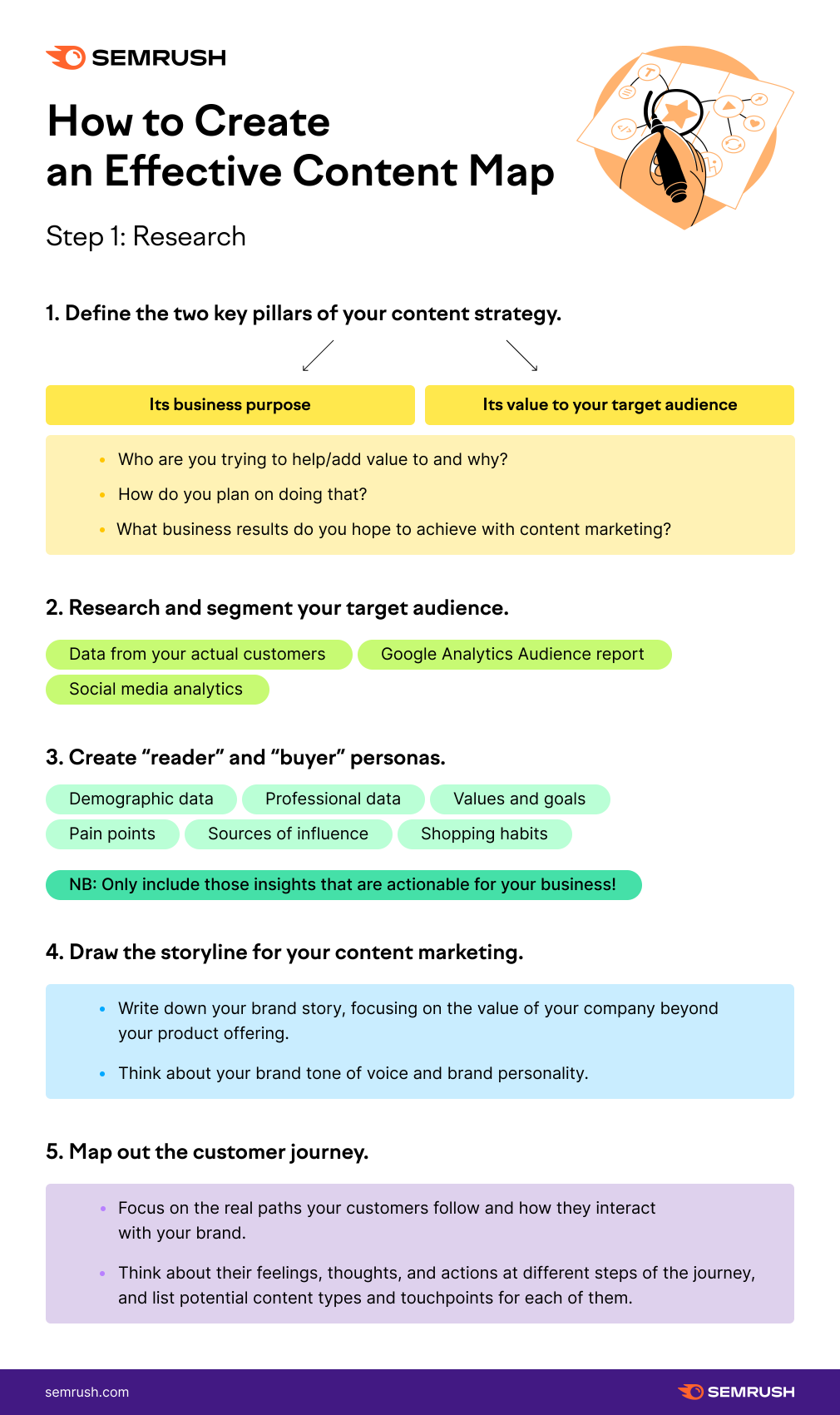 1. Define Your Content Marketing Purpose and Value 
Before you can map out your content, it's important to first have clear descriptions for two key pillars of your content marketing strategy: 
Its business purpose — what business goals are you aiming to achieve? 
In this step, the question to ask yourself is: how does your content strategy tie back to the goal or goals of your company? Your content strategy might help you deliver the exact content that answers readers' doubts, and so they purchase your product.
Here's an example of how the business purpose might be formulated:
The main purpose of our content marketing strategy is to develop a culture of consumption and to eventually convert our subscribers into the actual users of the platform. Although the short-term goal is about building the subscription base and communicating the need to actually use this product type, the overall purpose of the blog is to nurture loyal buyers that will keep using our platform.
As an example: 
With our content marketing strategy, we help people working in HR enhance their people management skills so that they can help their companies adjust to the changing work environment.
A content marketing statement essentially entails clear, concise answers to the following questions: 
Who are you trying to help/add value to?
How do you plan on doing that?
Why do you want to help/provide value to them?
2. Research and Segment Your Target Audience
Content mapping success starts with knowing who your target audience is. This knowledge helps you connect with their needs, interests, and concerns and, ultimately, create content that addresses them. 
Here are some ways to research and segment your target audience. 
Collecting data from your actual customers
Use surveys, interviews, focus groups with your customers, and your actual CRM to gain a better understanding of their experience using your product or service. 
It's important to make sure you have direct interactions with your customers, e.g., in the form of in-depth interviews, especially if you offer high-consideration products (e.g., B2B). 
After you've gathered some real client data, you can segment it into sections. For example: 
Customer commonalities: What characteristics do these customers have in common?
Buyer interest: What made them look for a solution like yours?
Accolades: Why do they prefer your product/service instead of another solution?
Goals/Objectives: What goals did they achieve and aim to achieve with our solution?
Google Analytics Audience report
Google Analytics' Audience report account can give you detailed insights into your audience, including:
who is visiting your website
their demographics (age and gender)
location
interests
habits 
behavioral patterns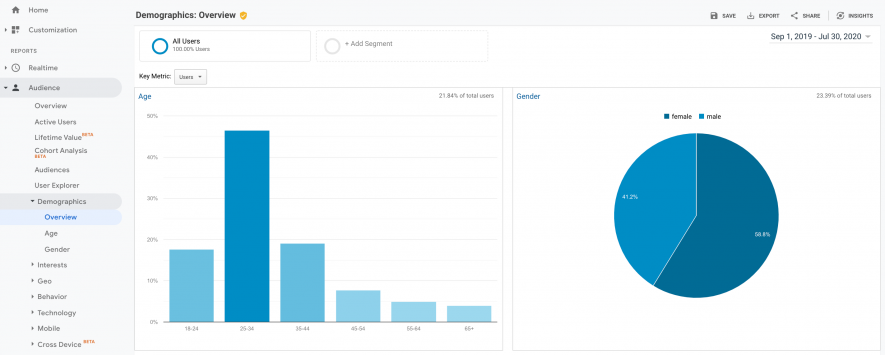 Need more guidance on Google Analytics and how to find and evaluate audience data? Our Beginner's Definitive Guide to Google Analytics can help. 
Social media can be another good way to dive deeper into your audience, even if they're not yet customers.
Facebook Audience Insights, for example, can be a great starting point for understanding your audience's demographic profile and other pages they like on Facebook.
3. Create "Reader" and "Buyer" Personas 
"Reader" and "buyer" personas are generalizations of your ideal readers and customers. They are an important part of content mapping because they help you understand these people better and deliver a more targeted message tailored to the specific needs and behaviors of different groups.
Depending on your business, you can have at least one, two, or more audiences that you're looking to reach. Your reader doesn't need to be a potential buyer; the "reader" and "buyer" personas may not be the same. 
For example, if you organize events, and you write good guides to event planning, virtual events, creating an event budget, etc., not only your potential clients will be reading them. There also might be party entertainers or other specialists. Build trust with them too, because they can recommend their clients cooperate with you. 
Note, people tend to rely on their imagination when creating a profile, but relying on actual analytical data is always more effective. With this in mind, make your personas based on the research you've done in the previous steps.
Here are some useful characteristics to consider including in your persona profiles:
Demographic data: age, gender, location, marital status, education, interests.
Professional data: industry, job title, company size, income.
Values ​​and goals: career and personal goals, their personality traits, values, lifestyle.
Problems: professional and personal difficulties, pain points, fears.
Sources of influence: favorite blogs, books, channels, thought leaders, events.
Shopping habits: how and where they buy, whether they make a purchase decision individually, how much they are willing to pay, what can stop them from buying.
To make this step easier for you, we've developed a persona profile template.
Once you've gathered data for your personas, use our Free Semrush Persona tool with pre-created customizable templates.
4. Draw the Storyline for Your Content Marketing 
Now it's time to think about how your brand can help your audience fulfill their needs and how your content marketing mission fits there. 
The brand story explains your "why": why you are creating content, who you are helping, and how you will help them in a way no one else can. In other words, it's about the value you provide with your product/service and your content. 
Think about the following items when writing your brand story:
Who the hero of your story is (your customer)
What's the context of this story — what are the challenges affecting your hero? And how are they dealing with them?
What's the (positive) change you want to provoke? And how your mission fits here
What does the future you are dreaming about look like 
After writing the above down, think about some of the core elements that will affect your content:
5. Map Out the Customer Journey 
A customer journey outlines the buying/decision-making process of your customers. Think about the steps that your audiences are going through on their journey, including their actions and emotions. 
Let's say their journey starts with the idea of wearing trendy clothes. In this case, the first step would be to search "fashion trends."
Think more about what is behind this action: 
Their emotions — How do they feel? What may they be experiencing in this moment of life?
Their thoughts — Is it about their social status, belonging to a community, overcoming some inner doubts, or something else?
Your touchpoints with them — How can you help them? 
Your content — What content would bring value to them?
Each stage of your audience's journey should correspond to the type of content you're developing for them. We'll talk about this soon.
6. Map Out Your Content Marketing Funnel Strategy 
According to our Content Marketing Funnel Study, 50% of surveyed marketers think that encouraging users to move through the funnel is one of the most challenging tasks when building a funnel. The vast majority (87%) of respondents guide their prospects through different buyer journey stages using content.
To help your visitors convert into customers, you should implement content for each stage of the buyer's journey.
Start with the Overall Understanding of Your Funnel
When it comes to creating a funnel strategy, it is commonly believed that there are three main stages of the funnel: 
TOFU (top of the funnel): Awareness 
In this stage, you'd be looking to attract the audience's attention. Here, they start realizing they have a problem and start researching a solution. They have no idea that you're offering a solution for their problem so far. Your goal is to reach out to these consumers and help them address their concerns and questions (e.g., think 'informational' keywords).
MOFU (middle of the funnel): Consideration
In this stage, your readers have a clear understanding of their problem and are actively looking for a solution. They might even be comparing different solution providers at this point. So, you'd want to share content that's more product-oriented. 
BOFU (bottom of the funnel): Decision
In this stage, readers have mapped their strategy for solving their problem and are now ready to make the decision. This is a good place for you to prove you can be the one to meet their needs and answer all potential questions they might have about your solution. 
At each stage, user intent is different. Therefore, you need to clarify what content will satisfy the informational needs of your potential customers at a specific step. 
Map Out the Strategy for Different Content Types 
Here's a quick summary of what the study has to say about the effectiveness of different types of content at these stages.
According to 72% of marketers, "how-to" guides attract the most attention here, then infographics (28%), checklists (27%), and ebooks (26%). As for the most effective channel for bringing in traffic, it's not surprising to have organic search here (70%). Social media (60%) and email marketing (54%) are also very effective.
This data might be explained by the fact that when creating guides optimized for SEO and solving a specific readers' problem, you show that you are an expert in the field and bring value to your audience.
When generating leads, "how-to" guides and organic traffic remain the most effective format (44%) and channel (69%). Also, product overviews (40%), case studies (34%), and landing pages (31%) come in handy. 
When it comes to lead nurturing, email marketing (72%) is the most popular, followed by success stories (43%) and product overviews (38%).
At this step, your goal is to accompany the reader from an initial idea to an in-depth understanding of how your solution helps. That is why product-related content in various forms works well at this stage.
51% of marketers surveyed use product overviews, 49% rely on customer reviews, 43% success stories, 30% use cases, and 25% case studies.
As for the channels, 73% consider email marketing as an effective way to keep the purchase moving forward. Organic search (61%) is the second most efficient channel that brings payments, followed by paid advertising (47%). 
Here, customer-generated and case-oriented content are some of the most effective types that help build trust, position your brand as superior to competitors, answer users' very specific questions, and accelerate the purchase. 
Think about the Specifics at Each Stage 
Regardless of statistics, there may be other content formats that work better for you in your situation. Consider your specific situation, industry, and personas. 
The questions that will bring you closer to understanding what content to use at different funnel stages:
TOFU — What are the questions that people who've never heard of your company, but might potentially need your product/service, could be asking?
MOFU — What would you say about your product to convince this particular person (your persona) to give it a try? 
BOFU — What can help them to make a purchase? What might be the deal-breaker?
7. List Topic Ideas You Will Focus On
According to the Content Marketing Funnel Study mentioned earlier, 88% of marketers decide what content to create based on keyword research, while 49% rely on in-house knowledge and experience. They use content audits and interviews with sales/customer support teams to decide on future content. 
Start with Broader Themes 
Here are some excellent tactics, including referring to the previous steps, to help you identify the key themes you'd like to cover with your content:
Think about the kinds of problems your target audience is facing;
Find out the most common difficulties those customers are reporting to your internal teams;
Go back to your customer research and customer development insights;
Analyze customer reviews;
Monitor social mentions to spot questions your customers are bringing up;
Use the Keyword Gap tool to analyze where you stand against competitors in terms of the keywords and find out where to channel your efforts.
Consult Topic Research for a range of potential topics and evaluate each of them to decide which ones to pursue (here are five steps on how to find relevant topics with good SEO potential).

Develop Topic Clusters
Once you have the list of main topics, go deeper. Content clusters are a way to dive into the subjects that your pillar content has only touched upon. Moreover, they are good for SEO.
Technically, content clusters correlate with сontent hubs on your website — destinations on your site containing pages about a certain topic. 
Expand Keyword List for Each Topic Cluster 
Once you've identified general topics to target and gathered them into clusters, you can go deeper into keyword research with the Keyword Magic Tool. Enter your target keyword as a "seed keyword," find keywords that are easy to target and relevant to your site using the Keyword Difficulty filter, review the keywords and add relevant ones to your list. 
8. Think about the Opportunities for Content Promotion and Repurposing 
To help you reach your target audience, include promoting the content through various channels and media formats to attract the right kind of traffic. 
Specific channels can be divided into three broad categories:
Email database.
Loyal third parties, like friendly bloggers, forums, or review sites. 
Paid channels, various platforms that host paid ads, social media advertising, media that post sponsored content, and paid influencers.
Choose the distribution channels depending on:
The type of content — in the full Content Distribution Guide, find charts presenting the content formats that are typically distributed via specific channels and the KPIs to track.
Your content promotion budget — for example, a common practice is starting with a paid campaign promoting a piece of content and then continuing promoting it organically once the paid campaign has been completed.
The channels your target audience is most likely to engage with — you need to take the persona, the customer journey and the funnel stage into account.
9. Summarize Everything in an Editorial Calendar
Connect all the previous steps in an editorial calendar. It should be the most accurate reflection of all of your content and consider:
Buyer personas — ensure you are targeting your buyer persona and provide value to the audience. 
Buyer journey touchpoints — consider the customer journey to structure your touchpoints and know what to offer (signing up for a newsletter, joining a loyalty program, or anything in between).
Funnel stages – the audience's respective stage in the marketing funnel; this can help you create content based on the inquiries and interests of your readers and monitor KPIs more effectively.
Topics – having topic columns makes a calendar clear to all team members as well as allows you to identify topics not covered easier.
Placement — you can publish content to your own blog or on other blogs as either guest posts or sponsored posts.
Repurposing — your articles don't have to stay in blog form only. Turn them into snippets like videos, pull quote graphics, and other quick bites that attract audiences.
Promotion — how you intend to promote the content you have created. You can add even more clarity by color-coding them (such as pink for Reddit, green for newsletters, or blue for Twitter).
Download the Content Mapping Template to access the free Content Calendar Template.
10. Establish Goals and Measurements for Your Content Map
Finally, what statistics will you use to measure the results? 
Conducting Content Marketing Funnel research, we discovered that marketers choose different metrics to measure content effectiveness at different stages:
TOFU — the number of visitors (73%).
MOFU — conversion rate (75%) and the number of leads (54%).
BOFU — conversion rate (73%), number of payments (53%) and ROI/ROMI (43%).
These insights can help you measure each content piece's results. As for your content map, there also must be some reference points. For example, generate 200 leads coming from the blog posts in the next four months with a budget of $5000. 
Choose one of the goal-setting frameworks like SMART (Specific, Measurable, Achievable, Relevant, and Time-Bound) or CLEAR (Collaborative, Limited, Emotional, Appreciable, and Refinable) to help you achieve them.
Helpful Content Mapping Tools 
Marketing Calendar — a multi-tool calendar that has built-in task management. You can map out all your campaigns' actions and processes in the calendar, and it allows for team collaboration.
Topic Research — a tool helping content writers and strategists find the list of related subtopics and ideas for new articles based on their "seed" keyword. 
SurveyMonkey — a tool to conduct customer surveys on a regular basis, connect with customers where they are, discover insights.
Google Analytics — a tool to help people understand what visitors are doing on their website, track and analyze your audience. 
Facebook Audience Insights — a report from Facebook that gives you deep information about your followers and fans. Other social media analytics (LinkedIn, Twitter, etc.) are also important to track if you are present on those platforms.
ImpactHero is an automated tool that maps your content to customer journey stages, providing actionable insights and recommendations to improve your content performance. 
Conclusion
Content mapping is an essential part of developing your content strategy. Build a content map that focuses on your personas, funnel stages, and use research to understand better where your audience is and what interests them. 
To speed up the process, use the Content Mapping template pack we created for you, which includes the following items:
Buyer Persona Template
Customer Journey's Template
Content Funnel Template
Content Calendar Template
Content Marketing Metrics Template 
Download the Free Content Mapping Template Bundle
Discover 5 templates to help you document your content strategy and make it more customer-centric.
Denial of responsibility!
Search Engine Codex is an automatic aggregator of the all world's media. In each content, the hyperlink to the primary source is specified. All trademarks belong to their rightful owners, all materials to their authors. If you are the owner of the content and do not want us to publish your materials, please contact us by email –
[email protected]
. The content will be deleted within 24 hours.