If you're not really sure what you can do for free with Semrush software, this post is for you! 
Highlights of what you currently get with a free Semrush account include:
Full access to Backlink Analytics (promotion running until December 31, 2021)
Daily competitor or keyword research with up to 10 new queries per day
Ability to create and manage one Semrush Project 

Track 10 keywords
Audit 100 pages of your site
More on the details of those limits are below, but first let's talk about taking a free Semrush trial.
When you first sign up for Semrush, you get the option of starting out with a 7-day free trial of either a Pro or Guru subscription.
This trial allows you to test out each of our tools and reports to help you understand how Semrush fits your needs and if Pro or Guru would be better for you.
You can find out more about the limits of each account level here.
However, if your trial ends and you wish to continue using this set of tools for free, you can downgrade the account to a free Semrush subscription, which has its own limits.
So what can you do with a free account?
Backlink Analytics: Free until December 31, 2021
As part of our campaign to get the word out about our newly revamped backlink database, we're opening up Backlink Analytics access free to all until the end of 2021.
What does this mean for you?
Well, on a free plan, you'll have the same abilities to pull research within Backlink Analytics as someone on a paid Pro plan. 
This translates to:
3,000 Backlink Analytics queries per day
10,000 results per query
(Before this promotion, a free plan would only allow for 10 Backlink Analytics queries per day and 10 results per query).
With this backlinks research tool, you'll be able to:
Dive into a database with over 43 trillion links
See the exact new links that have come to your website within the last day
Discover competitors based on backlinks
Find the top referring domains sending backlinks to your competitors
Analyze your competitors' top content that attracts the most links 
Compare multiple backlink profiles side-by-side
Calculate the Authority Score of any website
Try it out before the promotion runs out!
Domain and Keyword Analytics
10 Searches Per Day
You can perform 10 searches a day in our Domain Analytics and Keyword Analytics databases; this means you are only able to use the Semrush search bar to pull a report 10 times before your daily limit is reached.
If you enter a domain into the search bar, that would be considered one search. If you then click on any of the links to further reports within the Domain Overview report, this would also count as a search — bringing your total to 2 searches.
If you are just testing out the software, it may make sense that you only need to perform 10 searches a day. However, it is important to note that the next level paid subscriptions to allow for even more searches. 
Pro users have access to 3,000 searches

Guru users have access to 5,000 searches

Business users have access to 10,000 searches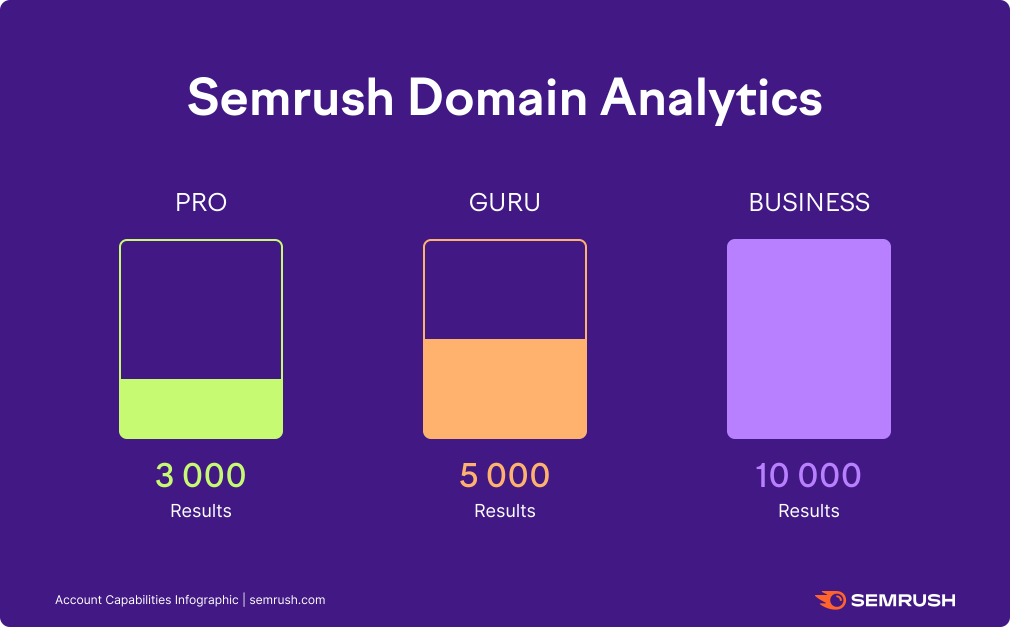 10 Results Per Request
Just like your daily search limit, the maximum number of results made to the Analytics reports per day is limited to only 10. For example, if you go into the Organic Positions report and query searchengineland.com, you would only be able to examine the first 10 keywords listed in that domain's Organic Positions Report.
The 10 results per search limit will be the same in all other analytics reports as well; this includes Backlinks reports, Advertising Research reports, and Keyword reports. In contrast, the paid subscriptions allow for even more results per search. 
Pro offers 10,000 results

Guru offers 30,000 results

Business offers 50,000 results
As a free user, you can make up to 10 daily searches in the Keyword Magic Tool, and receive 10 rows of results for each search.  
This tool gives you a great way to dive into keyword research and understand what the audience in your niche is searching for online.
Unfortunately, you will be unable to save any of your recent searches in the Keyword Magic Tool. 
Search history is how the Keyword Magic Tool keeps a history of your keyword research.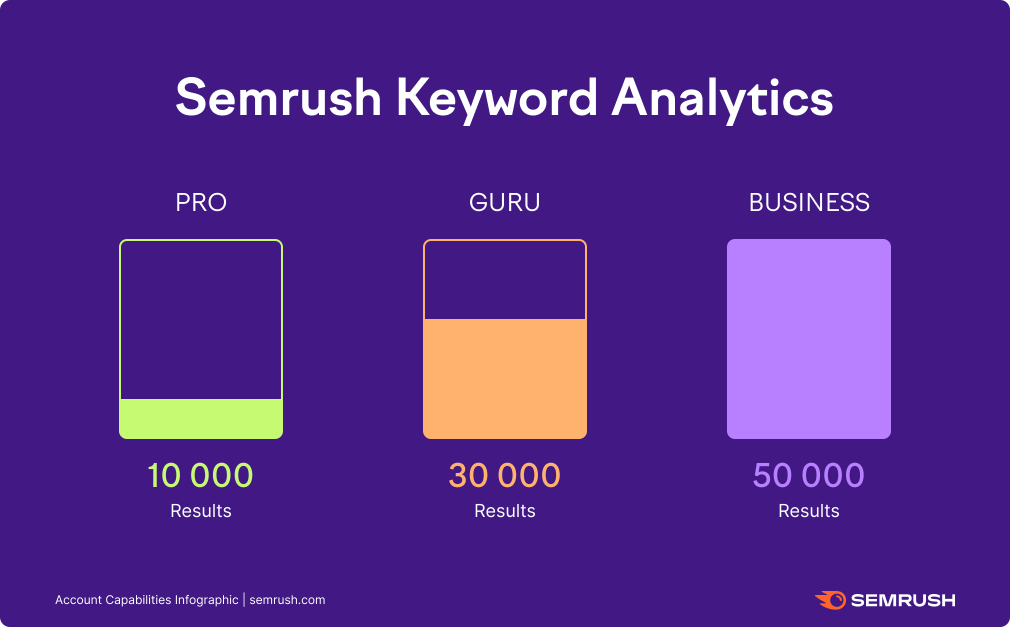 When you upgrade to a paid user, you will be able to keep up to 350 of your recent requests!
When you enter your first seed keyword in the Keyword Magic Tool as a paid user, it will be saved into your search history with the other seed keywords you have queried. This lets you go back at any time to reference keyword research you started in the past.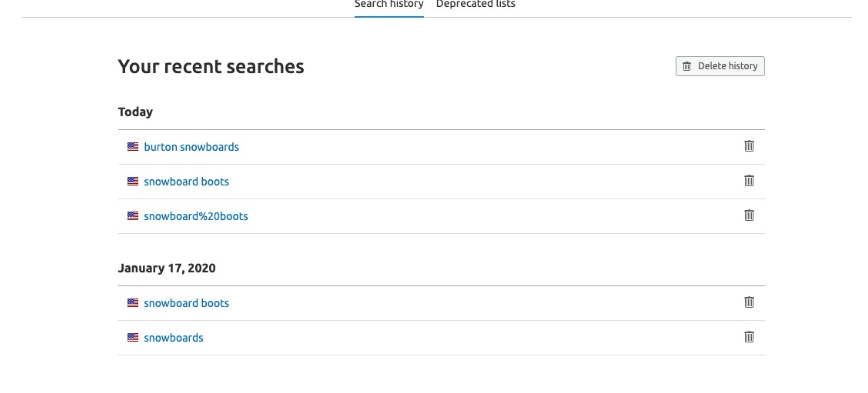 Creating and Managing a Semrush Project
As a free user, you can create and manage one Project.
For those unfamiliar with our Projects section, each Project basically serves as a dashboard that will display a preview of each tool's main metrics. Each project includes 12 individual tools.
If you want additional projects our Pro level package includes 5 Projects, our Guru package includes 15 Projects, and our Business level package includes 40 projects.
However, if you decide to stay as a free user, even after setting up your project, you will be limited in what you can do.
Crawl 100 Pages with Site Audit
Site Audit will provide you with an overall health score of your website as well as a list of issues found with the given website. As a free user, your Site Audit is limited to only 100 crawled pages; this includes crawls of given a domain, subdomain or subfolder. 
This data may suffice for certain websites. However, most websites have over 100 pages, so it may be something to consider when thinking about what level of account works best for you.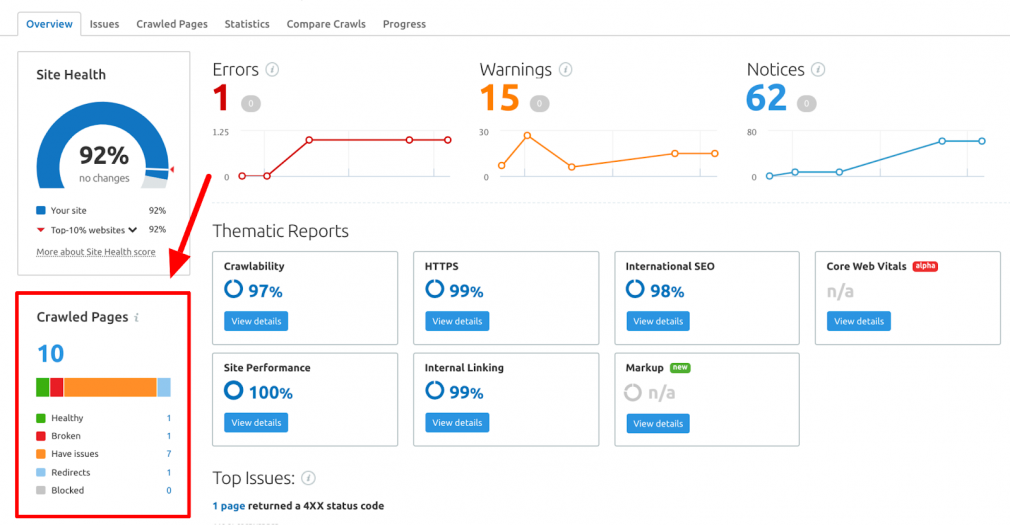 If you realize the free level account is not going to be enough, you can look towards our paid accounts.
Pro allows you to crawl up to 100,000 pages per month
Guru allows 300,000 pages per month
Business allows 1 million pages per month
Track 10 Keywords with Position Tracking
The 10 keywords that are available for free users to track refers to our Position Tracking tool. This tool allows you to enter a domain, a list of competitors, a list of keywords to track and set a location and device type. Then, we will track the daily rankings of your domain and competitors on the results pages for this target keyword list.
This powerful tool can provide you with localized ranking data on a frequent basis. Depending on your client size and the campaign, 10 keywords may not be enough for you to track.
Upgrading your account will give you the ability to track more keywords.
Pro gives you 500 keywords
Guru gives you 1,500 keywords
Business gives you 5,000 keywords
If you ever need more keywords than what your plan provides, you can reach out to your account executive to add additional keywords to your account.
It is important to note that If you have multiple projects set up, these keywords are split amongst them, and not limited to each project.
SEO Ideas Units
SEO Ideas units are shared between three different tools: SEO Content Template, SEO Writing Assistant, and On Page SEO Checker. 
These tools give you suggestions on how to structure content after you input a target keyword. With a free account, you are given a total of 10 SEO Idea units per month. 
Each target keyword you input into one of these tools will count as an SEO Ideas unit, and these three tools share the pool of 10 units. 
You can create one SEO Content Template, one On-Page SEO Checker campaign, and use the SEO Writing Assistant once (SEO Writing Assistant essentially integrates your SEO Content Template into a draft on Google Docs or WordPress).
You can use these keywords however you'd like across one On Page SEO Checker campaign and one SEO Content Template & SEO Writing Assistant.
So if you create an SEO Content Template targeting a single keyword, the number of SEO Ideas units you have for your On-Page SEO Checker campaign would now be 9.
To generate more than one template (or generate a template for more than one keyword), you will need to subscribe to our Content Marketing Toolkit. 
Our Content Marketing Toolkit is available to our Guru and Business account levels. So if you are just a Pro user you are missing out on our wonderful content tools.*
For more info on the limits of our Content Marketing toolkit, check out this article.
* Content Marketplace is open to both free and paid accounts*
Run 2 Topic Research Queries
With a free account, you are limited to just 2 search queries in Topic Research. 
Entering a search query in this tool will generate a list of subtopics and new content ideas based around your search. This is great for content marketers looking for a headstart in their brainstorming process. 
Topic Research is also a part of our Content Marketing toolkit so just like with your SEO Ideas units, you're going to need to be a Guru or Business level account to access it fully with unlimited queries.
Free and Pro level users are limited to two total queries each.
Schedule 1 PDF Report
With a free account, you are able to schedule 1 PDF report within the My Reports section.
My Reports makes it easy to build out PDFs from scratch. With this option, you will be able to clearly communicate the results of a website audit, competitive analysis, or show any other progress for a marketing campaign.
Pro users have 5 scheduled reports

Guru users have 20 scheduled reports

Business users have 50 scheduled reports
Guru and Business subscribers can also enjoy Google Data Studio integration. 
Now that you understand what goes into your free-level account, you may now have a little more insight into exactly what your account can do for you. You may decide that a free-level account will work for you, but you will be limiting your own resources.
However, if you do not think the free level will work and you are interested in other options we offer, you may want to look at our Prices page for more information. 
If you are interested in using Semrush in the long term or are looking for a custom package, please feel free to contact our sales team so that we can set your account up at a discounted rate along with all of the specifications you need!
Get a free access to all in one platform
SEO, PPC, Content Marketing, SMM, and Competitive Research.
Denial of responsibility!
Search Engine Codex is an automatic aggregator of the all world's media. In each content, the hyperlink to the primary source is specified. All trademarks belong to their rightful owners, all materials to their authors. If you are the owner of the content and do not want us to publish your materials, please contact us by email –
[email protected]
. The content will be deleted within 24 hours.