Social media ads are advertisements on social media platforms. Running an ad on a popular social media platform is one way to earn views that eventually turn into conversions. 
Over 90% of marketers say that social media has improved their brand exposure. Social media can also improve brand recognition, conversion rates,  and even SEO. Whether paid or organically, you benefit from having a strong social media presence.
There isn't a singular "best" platform for advertising. The platform you choose will likely depend on your needs, resources, and business objectives. You may also choose to advertise on multiple platforms with different budgets and metrics. 
Some other factors to consider are your products, current social media strategy, and audience. If you use Google Analytics or a similar web analytics tool, take note of any audience demographics data you have.
Popular social media sites include Facebook, Instagram, Twitter, Linkedin, Snapchat, and Pinterest. Let's review how to advertise on each site. 
Facebook Advertising
Benefits of Facebook Advertising
Facebook hosts 2.74 billion users monthly. An audience of that size presents an incredible marketing opportunity to businesses in search of an audience. Facebook pairs this impressive offer with a suite of business tools that makes promoting products and services on the platform easier than ever.
With a powerful array of microtargeting and retargeting features, Facebook Ads is a great first step to your social media advertising journey. 
Disadvantages of Facebook Advertising
Since the Facebook marketing model relies on users viewing their feed, organic reach is low unless you are willing to pay significantly for ads. With your ad campaigns, you may notice a lower conversion rate than on other platforms. 
How to set up Facebook Advertising Campaigns
Facebook Ads Manager is the home of Facebook advertising. You can use the Ads Manager to set your campaign's objective, indicate your target audience and budget, build your ads, and track campaign performance.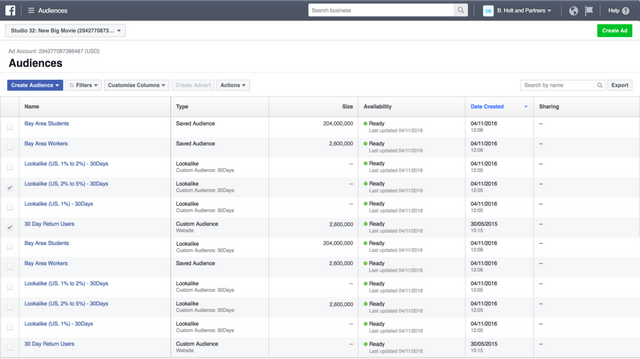 Standout features on Facebook include:
Retargeting: use this feature to reach returning customers with customized ads
Lookalike audiences: this feature helps your market to demographics with similar behaviors, backgrounds, and interests to your existing customer base 
A/B ad testing: test your ads' effectiveness with different groups for best possible results
Recommended reading: How to Keep Facebook Ads Cost Down
Facebook Advertising Tips
Simply put, Facebook is a good option for building brand awareness. Its powerful targeting and retargeting features can help you find your intended audience with ease.
Facebook's universal access is a great promotion tool, but you may notice a lower conversion or organic rate than other platforms. 
Instagram Advertising
Benefits of Instagram Advertising
Instagram's ever-growing, younger audience base is over fifty times more likely to engage with a company's platform when compared to the same content on Facebook. 
With an emphasis on visual media, Instagram has become a major ecommerce platform. Marketers can make the most of unique ad formats, including photos, video, story, and carousel.
The platform also offers detailed demographic targeting filters for gender, age, location, interests, and behavior.
Disadvantages of Instagram Advertising
Instagram ads may take more time to develop since they feature photos or videos you'll need to develop in advance. 
Additionally, Instagram's userbase could diversify its reach more; less than 15% of its users are older than 35. If you'd like to appeal to an older or wider audience, Instagram might not be the best platform to start with.
How to set up Instagram Advertising Campaigns
You can also use Facebook Ads Manager to set up and run your Instagram ad campaigns. You'll begin by selecting your audience, campaign targets, and budget, then design and upload your ads. 
Recommended reading: Instagram Ads Cost: How to Set Them Up & Keep Costs Down
Instagram Advertising Tips
Much like Facebook ads, you can tailor your Instagram ads with retargeting, lookalike audiences, and A/B ad testing. Unlike Facebook, you'll rely on mainly photos and videos for your ads, rather than the full suite of ads and posts you'll find on Facebook. 
Our advice: use lots of hashtags and ensure your visual content is appealing. 
Twitter Advertising
Benefits of Twitter Advertising
Twitter is unique: it has 300 million active users but is nowhere near as saturated by advertisements as Facebook or Google Ads. With less competition, advertisements can cost less and reach more users for longer. 
You can also target your campaign by demographic features such as age, location, gender, language, interests, and follower look-alikes.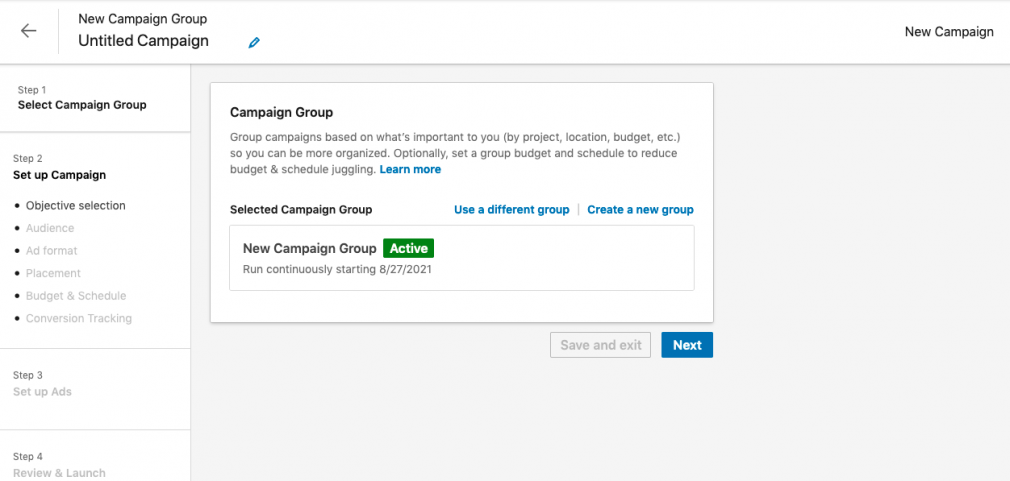 Disadvantages of Twitter Advertising
Twitter has poor tracking of conversion, meaning that it's harder to know whether your ads are earning any value. 
Compared to Facebook or Instagram, Twitter isn't the most user-friendly of social media advertising platforms.
How to set up Twitter Advertising Campaigns
You can promote advertising content through a promoted account at ads.twitter.com. You'll manage invoicing, monitor your ads, and collect ads analytics here. 
You'll also design your ads here. Twitter ads can be in image, video, carousel, moment, or text format.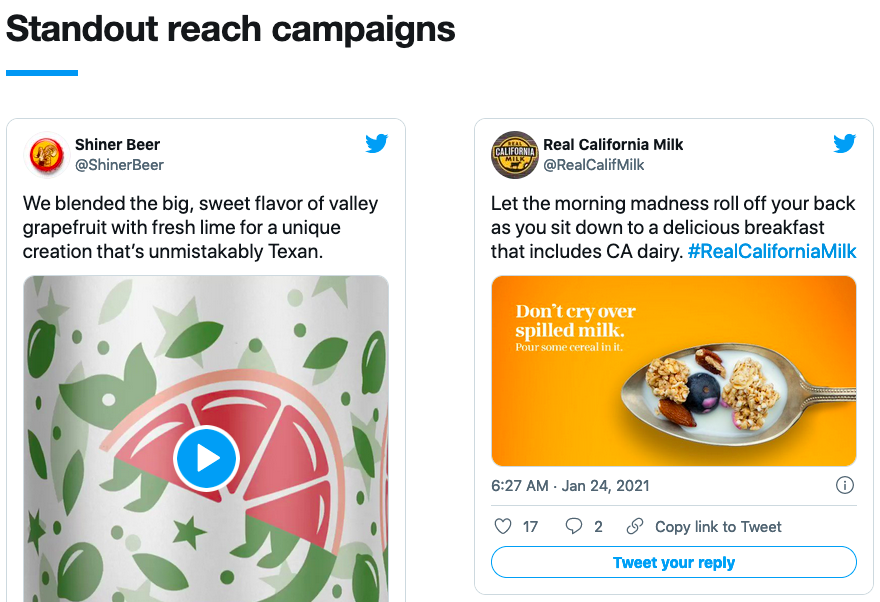 Twitter Advertising Tips
Twitter advertisements are great for focused campaigns aimed at a younger, socially-aware demographic. Ensure that user engagement and CTAs are built into your ads, and be wary of the cost-benefit ratio when it comes to limited data tracking. 
 Pinterest Advertising
 Benefits of Pinterest Advertising
Pinterest is ideal for for visual and creative product brands marketing to a younger, artistic demographic. Much like other apps, users opt-in to see what they want on the platform, so it's important that your advertisements are targeted to a specific demographic. 
Pinterest makes it easy to drive traffic and conversion rates through promoted pins, which operate like sponsored bookmarks. Promoted pins are paid for by individuals and businesses promoting their content. Well-designed pins can last for several years and create long-lasting brand awareness. 
 Disadvantages of Pinterest Advertising
As with most image and video-based sites, creating stunning visuals is required labor. Curating or developing photos is time-consuming and may not always result in a popular ad. Routine posts with stock-standard images are unlikely to gain much traction.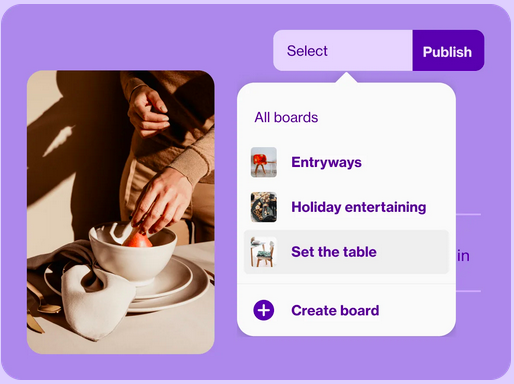 How to set up Pinterest Advertising Campaigns
Pinterest runs advertisements through business accounts and their Ads Manager. You can use the Ads Manager to select the pins you want to promote. 
Your promoted pins vary depending on your campaign, be that brand awareness, video views, consideration, conversion, or catalog sales. You can preview your ads, manage them, and collect data through Ads Manager, too.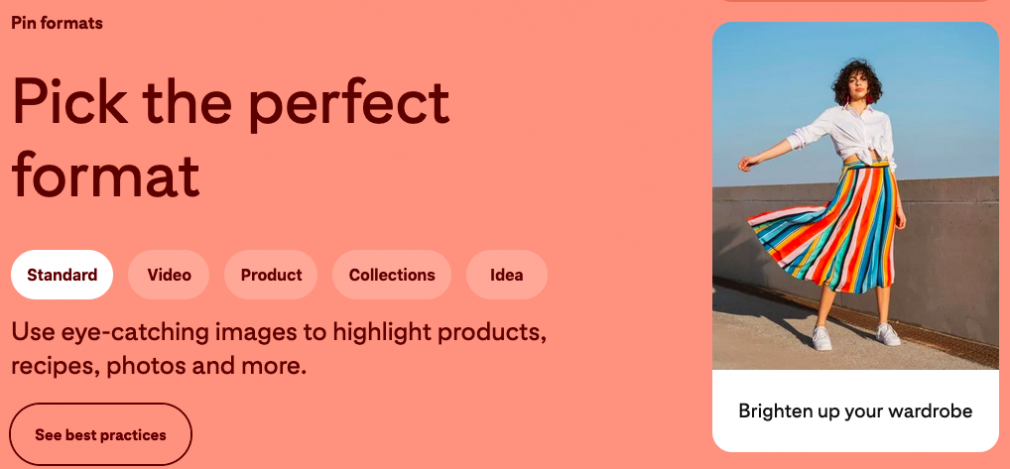 Pinterest Advertising Tips
Pinterest ads are best for creative, visually appealing products and services. Be intentional about the pages you link your promoted pins to, and spend time designing your pins so they appeal to your target audience.
 LinkedIn Advertising
 Benefits of LinkedIn Advertising
Linkedin benefits recruiters, headhunters, and HR departments sourcing new talent. It's also the only platform that allows advertisers to categorize their audiences by corporation, industry, educational attainment, experience, and certifications of its users, giving it a unique targeting advantage. 
B2B advertisements thrive on Linkedin, especially for companies with considerable marketing budgets. It's easy to reach your audience through several streams, including direct messages, their feed, recruiting notifications, and more. 
 Disadvantages of LinkedIn Advertising
LinkedIn's advertising cons include high costs, a clunky interface, and a lack of custom reporting. 
With a clunkier interface than competitors such as Instagram, Twitter, and Pinterest, you'll be less likely to woo your clients over from visually outstanding presentations. Data collection is also limited for demographics based on gender, location, and age. 
How to set up LinkedIn Advertising Campaigns
Ad campaigns on Linkedin are run through Campaign Manager. You can manage your ad format, design, objectives, budget, and analysis through the tool
Linkedin offers a suite of ad formats such as sponsored content, InMail, text ads, display, and dynamic ads, plus a variety of unparalleled demographic targeting features, mentioned above. 
 LinkedIn Advertising Tips
Monitor your clickthrough rate (CTR), and target your audience carefully. You want to ensure your ad receives clicks before scaling it up or targeting more people. Ensure that your ad focuses on solving professional problems. 
Snapchat Advertising
Benefits of Snapchat Advertising 
Approximately 160 million people use Snapchat every day; 62% of their audience is age 18-29. For personal, direct advertising with this demographic, it's hard to beat Snapchat. 
 Disadvantages of Snapchat Advertising
Statistically, Snapchat advertisements are less likely to engage with and convert your prospective users. It is more difficult to reshare ads on Snapchat, and the time constraints built into the app make it difficult to achieve clear messaging and CTAs.
How to set up Snapchat Advertising Campaigns
Snapchat ads are run through Snapchat Ad Manager. Here, you can create your ad creative. The tool will prompt you to create a campaign to drive traffic to your website, encourage people to install your app, or grow awareness of your brand. 
Next, select your audience demographics, budget, and schedule. Finally, choose the type of ad you want based on your campaign's intention, and create your advertisement.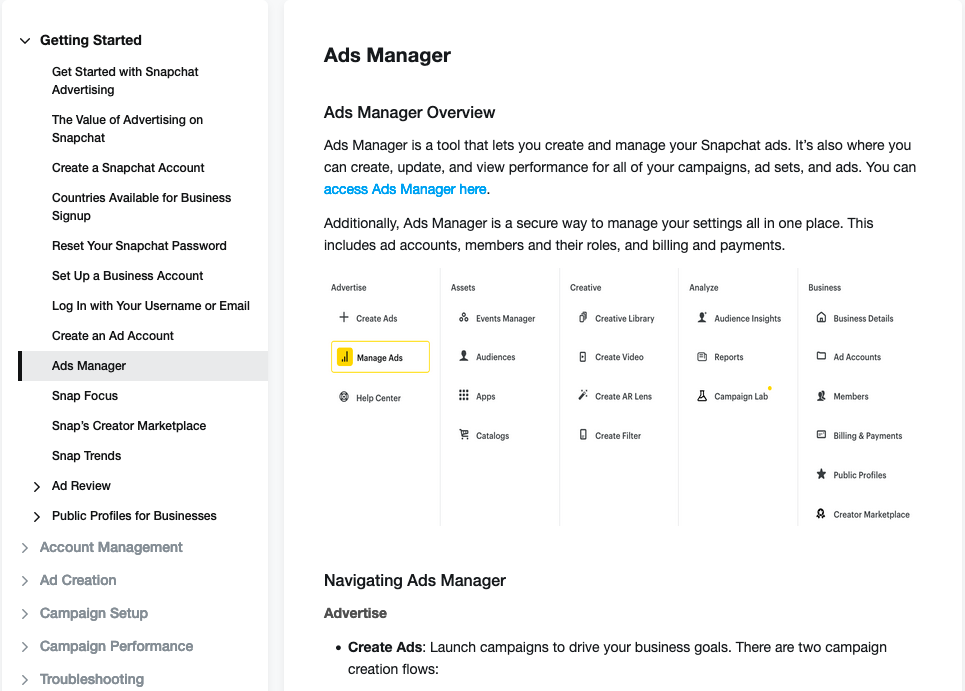 Snapchat Advertising Tips
It is relatively easy to set up a Snapchat ad campaign, but it's not easy to create consistently engaging, short-form visual content with geo-filters and hashtags. If you're trying to reach younger demographics, Snapchat ads are worth it, but we would recommend running your platform through a campaign manager. 
Our Social Media Toolkit includes a comprehensive suite of tools to help you build and track your social media ad campaigns. Review all of your accounts from the Social Media Dashboard for quick, accurate updates.
Social Media Tracker
Our Social Media Tracker provides an overarching view of your and your competitors' social media. You can use the tool to compare your social media's engagement and growth with your competitors. 
Filter through audience, activity, and engagement data at a moment's notice, or review insights by a specified date range or top-performing content.

The Tracker offers competitor analysis features, so you can see your competitors' top posts (based on engagement.) Analyze trending posts faster, so you can produce more appealing content. 

Social Media Ads
The Social Media Ads tool helps you build and tailor your Facebook and Instagram ads from one interface. 
Create ad campaigns and sets, track your performance with customized notifications, and campaign weaknesses quickly with easy-to-read reporting. Start your campaign starts by identifying your objectives, budget, bidding strategy, schedule, and target audience. 
The tool will prompt you to begin designing your ads. Use the tool to customize ad design and copy with photos, web links, URLs, and CTAs.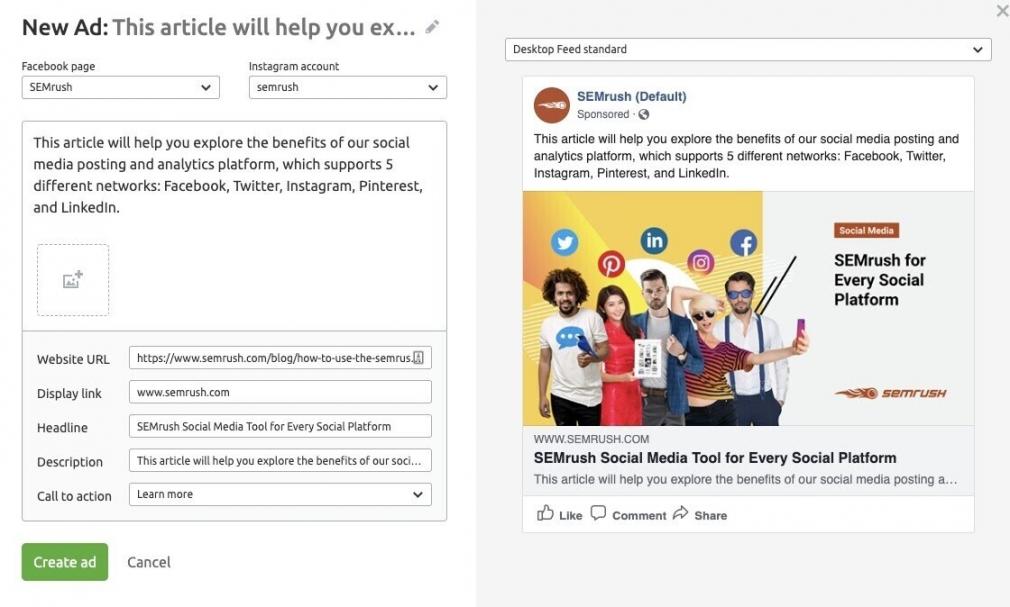 The tool tracks multiple metrics for a comprehensive review of your campaign's success. The campaign dashboard displays your budget spend, cost per click, and any traffic to your site. You can also track the number of results, cost per result, overall impressions, and more.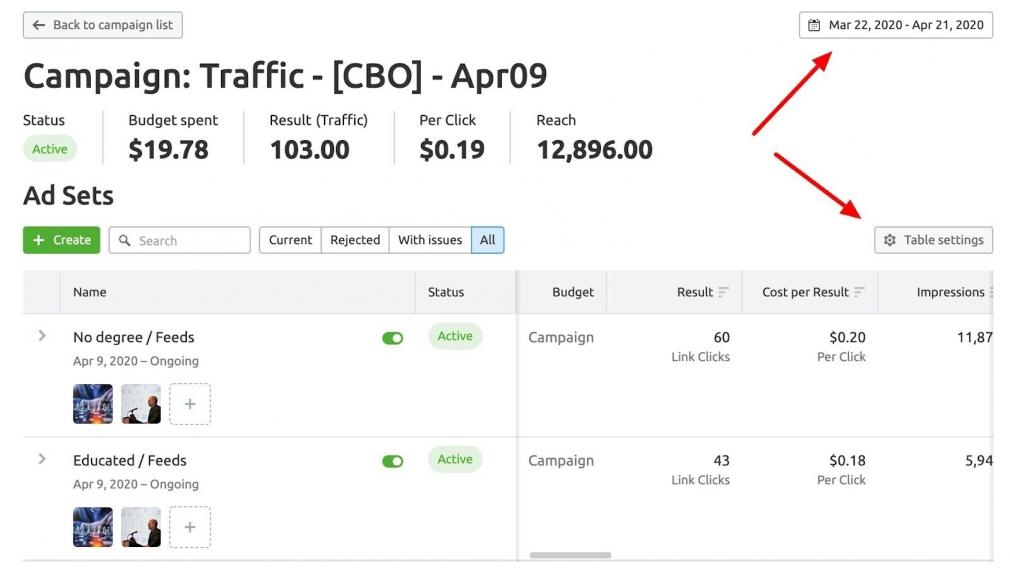 The tool also indicates any ads that are ready to be scaled or fixed.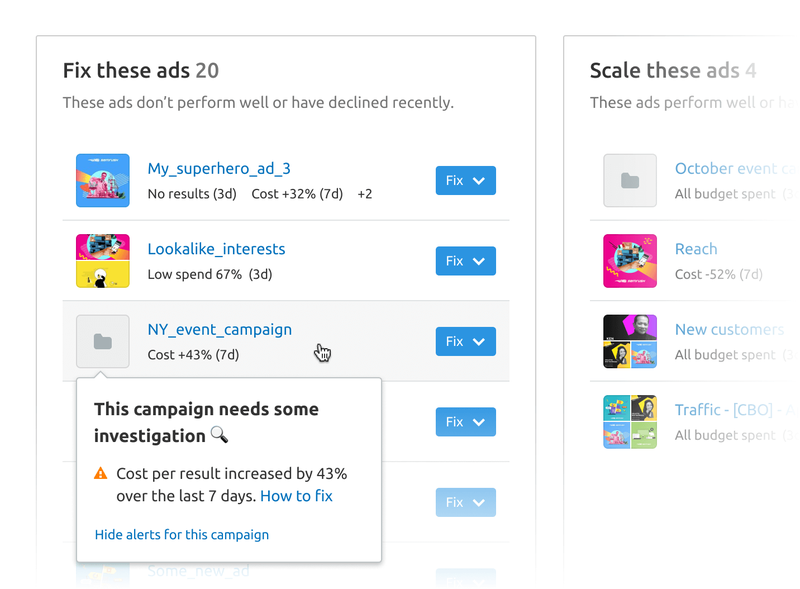 Social Media Analytics
Finally, the Social Media Analytics tool grabs metrics for Facebook, Instagram, and LinkedIn and displays them in a central dashboard. Monitor your new followers, post reach, post engagement, and engagement rate at a glance. Filter these results over the desired date range to see how your performance is tracking over time. 
For Facebook posts, you can see your audience, mentions, page likes, engagement, and posts:

Social Media Analytics can also track organic and paid page likes. You'll see popular and controversial posts as well:
The tool's Instagram tracking break down your audience by specific country, age, gender, and other demographics. With this data, you can also analyze your profile reach and CTA clicks. 
The tool also tracks your Instagram engagement, engagement rate, reach, impressions, saved posts, likes, and comments for each of your photo and video ad posts. 

On LinkedIn, you'll be able to see your total number of followers, total engagement, reach, impressions, and engagement rate. Social Media Analytics will also allow you to filter your followers based on their country, job function, company size, and industry.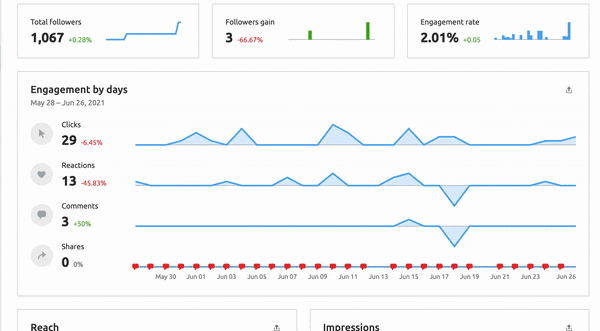 Conclusion
There's much to consider when it comes to your social media ad strategy. Consider your audience, target demographic, campaign objectives, budget, and engagement analysis when selecting platforms to work with. 
Whatever you choose to launch your social media ads, Semrush can help you achieve your marketing goals. Collect insights on your audience engagement, competitors, and market growth, and improve the performance of your ads via a straightforward, easy-to-use platform. 
[create-campaign  destination_url=" https://www.semrush.com/social-media/#smp /" show_input="false" header="Schedule Posts" text="with the Social Media Poster Tool" button_text="Try for Free" bg_images=" https://static.semrush.com/blog/uploads/media/96/fd/96fd495930d058321d5f78f5554aff88/trial-superbanner-1.png" bg_button="-success"
Denial of responsibility!
Search Engine Codex is an automatic aggregator of the all world's media. In each content, the hyperlink to the primary source is specified. All trademarks belong to their rightful owners, all materials to their authors. If you are the owner of the content and do not want us to publish your materials, please contact us by email –
[email protected]
. The content will be deleted within 24 hours.